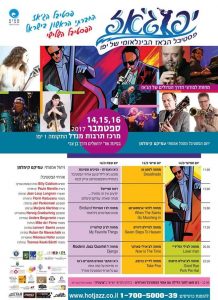 Florin Raducanu will perform in Israel, during the Jaffa Jazz Festival 2017.
My Favorite Things- Tribute to John Coltrane, with Jari Perkiömäki-Alto Saxophone, Daniel Rotem Tenor-Saxophone, Tal Gamlieli-Bass, Yonatan Rosen-drums
More info
Florin Răducanu Trio à la Jazz Station et à The Music Village
Florin Răducanu Trio concertează la Jazz Station și The Music Village
ICR Bruxelles organise deux concerts de jazz soutenus par Florin Răducanu Trio qui présentera le projet Jazz Balance between traditional – classical & free jazz. Les artistes se produiront à la Jazz Station jeudi, le 4 mai et au Music Village Club dimanche, le 7 mai. Les deux clubs sont l'unes de plus appréciés lieux d'intérêt pour les amateurs de jazz de la capitale bruxelloise.
http://brussels.carpediem.cd/events/3387306-florin-r-ducanu-trio-rou-at-jazz-station/
https://www.themusicvillage.com/phone/program.html#month2
http://icr.ro/bruxelles/florin-raducanu-trio-concerteaza-la-jazz-station-si-the-music-village/fr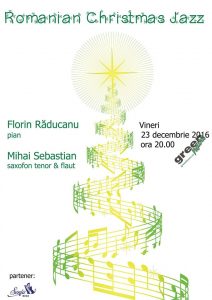 Green Hours prezintă:
Romanian Christmas Jazz
Florin Răducanu – pian
Mihai Sebastian – saxofon tenor & flaut
O serată muzicală tematică, anuală, pe care pianistul/compozitor Florin Răducanu a demarat-o prin publicarea, în 2015, la editura GrafoArt, a culegerii de "Colinde româneşti rearmonizate și aranjate pentru pian". Cei prezenţi pe 23 decembrie 2016 la concertul duo-ului Florin Răducanu – Mihai Sebastian vor intra în lumea liberă a improvizaţiei de jazz, cea care va construi o punte între colindele româneşti și cele americane. Cunoscute colinde americane, precum "Christmas Song", vor sta alături de cele româneşti, precum "O, ce veste minunată " sau "Trei crai de la răsărit" – subliniind astfel spiritul "concordia" al Crăciunului… muzical.
partner: Senia Music
intrare:
– 25 de lei (achitat în avans – pînă în preziua evenimentului – cu un telefon în prealabil la 0788 452 485)
– 30 de lei* (achitat în ziua evenimentului)
*studenții & pensionarii = 2 pe 1 bilet
rezervări:
concerte@greenhours.ro (pînă în preziua reprezentaţiei) …confirmarea – în max. 48 ore 🙂
..nr. .telefon (pt. eventuale detalii):
0788 452 485 (L-V: …strict între orele 11-18)
greenhours.ro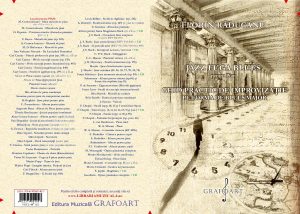 Jazz Fuga Blues pentru pian
Ghid practic de improvizatie
pe forma de blues major
FLORIN RADUCANU
(Grafoart 2016)
Jazz Fuga Blues, lucrarea subsemnatului, este construită parțial după modelul fugii de tip bachian, Astfel, partea expozitivă respectă integral rețetarul lui Bach : subiect – răspuns (în cazul de față, răspunsul este real, existând și posibilitatea unui răspuns tonal, mai exact cel care este expus pe treapta a V-a și nu este identic cu subiectul expus inițial pe treapta I) – contrasubiect (în cazul nostru, contrasubiectul este obligat, existând și posibilitatea unui contrasubiect liber. Expunerile subiectului se realizează la cele 3 voci în cadrul părții epozitive.
 Așa cum spuneam, aceasta este rețeta expoziției pe care Bach o folosește constant.
În partea dezvoltătoare, am inclus un element surpriză –  care este cel ce face ca această Jazz Fuga să fie inedită – o parte improvizatorică pe o formă de Blues major.
În partea revenirii tonale (repriza) am încercat, de asemenea, să aplic rețetarul lui Bach prin introducerea in stretto a subiectului.
Pentru ca să păstrez principiul componistic al lui Bach, am realizat subiectul fugii pe cuvântul L-O-G-O-S J-E-SCH-U-A, având în vedere că în, Arta Fugii, geniul contrapunctului instrumental a folosit inițialele numelui său, B-A-C-H.
Trebuie să spunem că am orchestrat această fugă pentru pian și pentru Big Band, versiunea jazzistică orchestrală fiind expusă pe CD-ul Florin Raducanu Live Jazz Portret at Radio România.
Având valoare de "scurtă metodă de improvizație de jazz", secțiunea care completează această Jazz Fuga, vine în ajutorul celor care vor se apropie de conceptul improvizatoric pe forma de Blues major, cu formele metamorfozate istoric în practica jazzmanilor, în acest sens punând la dispoziția celor interesați posibilități practice (exemple).
Așadar, prin această nouă publicație pe care, prin parteneriatul cu editura GrafoArt, o punem la dispoziția publicului, ne adresăm atât muzicienilor "clasici", cât și celor care doresc să practice improvizația în jazz, elementele de polifonie și artă contrapunctică fiind prezente atât în muzica "clasică", cât și în jazz, improvizația muzicală fiind practicată atât de Palestrina, Bach, iar acum în Jazz Fuga Blues, compusă în România secolului XXI…
LOVE SONGS FROM JAZZ STANDARDS II
2 decembrie la Green Hours
Pianistul si compozitorul Florin Raducanu continuă seria de succes a repertoriului standard de jazz cu tematica "love songs". Pentru concertul din 2 decembrie 2016- de la Green Hours Jazz Club- Florin Raducanu extinde tematica "love" si in zona clasică prin re-imaginarea unor fragmente de Beethoven si prin interpretarea a unor compoziţii proprii de succes.
Proiectul de DUO- impreună cu saxofonistul/flautistul Mihai Sebastian – a debutat cu succes pe scena European Izmir Jazz Festival 2016.
Cei prezenţi pe 2 decembrie la Green Hours vor avea posibilitatea să călătorească in timp şi spaţiu in cadrul unui proces de simbioză intre jazz şi muzică clasică rar intâlnit pe scenele de jazz europene.
intrare:
– 25 de lei/pers. (achitat pînă în preziua evenimentului, la sediul Green Hours, cu un telefon în prealabil la 0788 452 485)
SAU
– 30 de lei (achitat în ziua evenimentului)
rezervări:
# ideal din timp – pe concerte@greenhours.ro (confirmăm în max. 48 ore)
# doar la urgenţă – 0788 452 485 (L-V: 11-18)


"Jazz Ecumenica Symphonic Jazz Poem by Florin Raducanu" acum pe DVD / iunie 10, 2016 no14plusminus

Despre expresie vs. impresie în muzică / mai 10, 2016 no14plusminus
The first performance of the symphonic jazz poem "Jazz Ecumenica" with the participation of the composer and pianist Florin Raducanu (piano) and pan-flutist Dalila Cernatescu. The concert featured the State Academic Symphony Orchestra of the Republic of Belarus and the State Academic Choir conducted by Alexander Anisimov.
Link

Seară de jazz românesc la Izmir, succes răsunător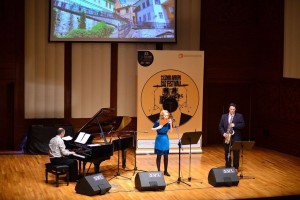 Fundația de Cultură și de Artă Izmir (IKSEV) în colaborare cu Primăria Metropolitană Izmir și cu Institutul Cultural Român "Dimitrie Cantemir" de la Istanbul au oferit publicului turc prezent în seara de 12 martie 2016 în cadrul Festivalului European de Jazz de la Izmir un concert unic susținut cu casa închisă, o fuziune între jazz, muzică clasică și muzică tradițională românească.
omplexul Cultural din Izmir care poartă numele celui mai important compozitor turc (de talia lui Sibelius, Bartok sau Enescu), Ahmed Adnan Saygun a fost gazda proiectului muzical FLORIN RADUCANU JAZZ BALANCE between traditional-classical & free jazz, iar cele peste 260 de persoane prezente în sală au aplaudat în picioare performanța artistică a muzicienilor români Florin Răducanu (pian), Dalila Cernătescu (nai) și Mihai Sebastian (saxofon). Camelia Botezatu, specialistul PR al trupei și responsabilul cu materialele video-grafice a proiectat pe durata întregului concert, timp de o oră și patruzeci de minute, o serie de imagini menite să promoveze diverse obiective culturale și turistice ale Românie. Artiștii români au fost onorații cu prezența în sala de concert atât a doamnei Mioara Ștefan, consul general al Romaniei la Izmir și a doamnei consul Janette Constanța Carabașu, cât și a doamnei Filiz Eczacıbaşı Sarper, președinte IKSEV.
Potrivit organizatorilor, compozițiile talentatului pianist Florin Răducanu, în special cele presărate cu motive tradiționale în acompaniamentul flautului mânuit cu virtuozitate de Dalila Cernătescu, au captat interesul publicului stârnind aplauze prelungite și călduroase.
Inițiatorul proiectului muzical, Florin Răducanu a mulțumit Institutului Cultural Român de la Istanbul pentru asigurarea prezenței românești în cadrul celei de-a 23-a ediții a Festivalului European de Jazz din Izmir, declarând că "A fost o seară specială pentru muzica jazz românească în care am întâlnit un public entuziast și surprinzător de receptiv." – transmite ICR Istanbul.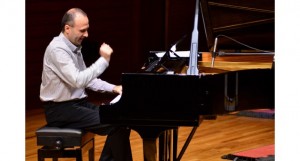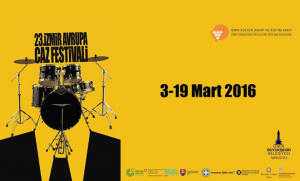 Florin Raducanu Jazz Balance
March 12 2016 20:30
Ahmed Adnan Saygun Sanat Merkezi, İzmir
Florin Raducanu, piano
Dalila Cernătescu, pan flute
Sebastian Mihai, tenor sax
WORLD PREMIERE IN MINSK! JAZZ ECUMENICA
07.04.2016 / 19.00
The Big Concert Hall
Performers: State Academic Symphony Orchestra of Belarus – Florin Raducanu – Dalila Cernatescu – Alexander Anisimov – Государственная академическая хоровая капелла им. Г.Ширмы
A joint project of the Romanian Embassy in the Republic of Belarus and the Belarusian State Philharmonic Society. In connection with the celebration of the 5th anniversary of the World Jazz Day, which, according to the UNESCO resolution, noted April 30th 2016, in Minsk on the stage of the Big concert hall of the Belarusian State Philharmonic Society will be held the first performance of jazz symphony Jazz Ecumenica with the participation of the author – one of the most popular jazz pianists of Romania , orchestrator and composer, professor Florin Raducanu and the famous Romanian flutist Dalila Cernatescu.
The concert of the State Academic Symphony Orchestra of Belarus conducted by chief conductor, People's Artist of Belarus Alexander Anisimov maestro also involved the State Academic Choir named after G.Shirma, artistic director – People's Artist of Belarus Lyudmila Efimova.
Dalila Cernatescu (Panflute)
An international renowned virtuosos of the panflute, Daliala began playing the panflute at four and a half.. A year later she made her first TV appearance in a television show on Romanian television.
She participated in national and international competitions and festivals, playing various musical genres (folk, classical, pop, and jazz) in Yougoslavia (Novi Sad and Belgrade), France (Nantes, REims, Plozevet, Confolens, Concarneau, Montguyon, Cloran, Guinillau, Mamans), Belgium (Saint Ghislain). She also played in Austria, Switzerland, Germany, Belgium, France, Malaysia, Ukraine.
Her first recording was released when she was 10. In 1987 she recorded "Spring" from Vivaldi's The Four Season's for the Romanian Electrecord label with the National Radio Orchestra, being the first panflute player in the world to respect all the tones of the original score.
In 1991 she participated with the composition "Pannonia" in the Grand Prix of Austria, Switserland and Germany. The same year, she released the album "Magic Panflute – A sound of my heart", produced by Music Street Austria, Warner Chappel and Bellaphon, working with members of Vienna Philamonic Orchestra. In 1992 she becaomes a member of SACEM Paris (Society of Authirs, Composers and Music Publishers).
In 1995 she had the chance to work with the producer and composer Ralph Siegel, composer of the song "Echos", she had performed on panflute in duet with Angela Wiedl (vocal) representing Germany at the Eurovision'96.
She performed in the famous Votivkirche cathedral in Vienna, and in 1996 she played on panflute for the first time ""The Winter from Vivaldi's The Four Seasons.
Dalila had the honour of working with Pedro Ibanez, a master of classical guitar. The two artists performed in concerts and recorded "prestigious Duo (Duo de Prestige)", an album including pieces by Manuel de Falla, M. Villa-Lobos, N. Paganini, F. Shubert, J. Ibert, M. Ravel, S. Mayers, B. Bartok.
Daliala Cernatescu also collaborated with the guitarists Andre Benichoiu and Bernard Gilleet, founding president of the festival "Les Etes de Marnans".
She recorded for the prestigious label such as: Bellaphon (Austria), Carriera Music (France), 7Productions (France), BMG Ariola&Jupiter-Records, Octant Musique&SElect Canada. Appearances on television: ORF1, ORF2 (Austria), Telefunf (Swtserland), ZDF (Germany), FR2 (France), HNK (Japan).
In recent years she collaborated with the pianist Florin Raducanu on several projects: 2007 – Vienna, Austria, 2008 – Kuala Lumpur Malaysia, 2010 – Vienna, Austria – Porgy&Bess Jazz Lub&Graz City, 2014 – Kiev, Ukraine, 2015 – Bucharest Jazz Festival.
"Revealing the Romanian Traditional Music on Jazz" was awarded Album of The Year 2011 in Romania.
Dalila Cernatescu is currently a Ph.D. professor at National University of Music in Bucharest.
Florin Raducanu (pianist, composer, professor, jazz orchestra leader and conductor)
Florin Raducanu graduated the Music Academy in Bucharest, took part in numerous national and international jazz festivals, met and played with important jazz musicians such as David Murray (SUA), Jorge Silvester (Afro-caribbean), Lee Pearsons (SUA), Jean-Louis Rassinfose (Belgium), Eric Legnini (Italy), Celline Rudolph (Germany), Zahid Ahmad (Malaysia), Joseph Pruesner (SUA-Malaysia), Jasper Bloom (Holland), Ari Roland( SUA), John Mosa (SUA), Zaid Naser( SUA), Keith Balla (SUA) etc.
Over the years, he started and played in many projects, including his trio, sextet, big band and symphonic jazz orchestra, all of which performed his compositions and jazz standards. In 2007, he collaborated with the Sibiu Philharmonic Orchestra, to produce a Third Stream project for his "Tribute to Mary Magdalene" and "Mapamond Pictures" compositions. He was composer, conductor and piano player for this symphonic jazz project and later in the same year, the Romanian Radio Society him to perform a concert with the Radio Jazz Big & Chamber Orchestra, which was broadcasted in 13 European countries.
So far, he recorded eight albums: "Hermanstadt Jazz Town", "Back To Bach", "Florin Raducany plays Beethoven, Chopin, Enescu on Jazz", "Revealing the Romanian traditional music on Jazz", "Florin Raducany Jazz orchestra in Enescu Festival 2009", "Florin Raducany & Friends – Jazz Standard Mood from Vienna 2014", "Florin Raducany Live Jazz Portret", and "Romanian-Ukrainian Jazz Meeting at the Kiev Operetta Hall".
The Romanian Composer and Musicologist Union included his recordings on the albums series dedicated to jazz. He also recorded the first album with his young Romanian jazz students, "Young Jazz Musicians", on which he was composer, piano player and arranger and producer.
Raducanu played abroad in Europe and Asia. In May 2009, he was part of a Romanian-Dutch collaboration with saxophone player and Amsterdam professor Jasper Bloom. In September 2009, Raducanu was invited to play classical jazz projects with his 16-musician orchestra "Florin Raducanu & Classical Troubadures Orchestra" at the most important classical festival in Southeastern Europe, the George Enescu International Festival.
He was a part of the 2008 "Sibiu Jazz Festival" and the 2009 Akademy Seny (Kuala Lumpur, Malaysia) jazz masterclass. Some of his awards include the Muzza Foundation Prize for Jazz – 2004, the Prize for Jazz of "Cuv3ntul" magazine -2005, the prize for Jazz arrangements of the "Romanian Radio Broadcasting Society" and the prize for Jazz Symphonic Composition of the Romanian Union of Composers and Musicologists – 2007.
In 2009 he won the Jazz musician of the year award in Romania.
In 2010 he presented his "Improvisations about music of the world" project at the famous Vienese jazz club"Porgy&Bess", as well as in Graz city. His album "Florin Raducanu plays Beethoven, Chopin, Enescu on Jazz" is promoted on international jazz page: "Jazz Corner", "Jazz Rewiew" from USA and "JazzWorldQuest" from Canada.
Raducanu's album "Revealing the Romanian Traditional Music on Jazz" was Jazz Album of the Year 2011 in Romania.
In 2014 was invited in Kiev, Ukraine, to perform toghether with Ukrainian jazz musicians in Ednistjazz Festival. The project was called Romanian -Ukrainian Jazz Meeting. On this occasion he was invited to give a masterclass for students from "P.I Tchaikovsky" Academy of Music from Kiev. Also in 30 April 2014 Florin Raducanu was invited to celebrate "Jazz Da/' concert at Porgy & Bess Jazz Club from Vienna, Austria.
Marele Ordin Feminin Român organizează luni, 21 decembrie 2015, ora 19:00, la Centrul Naţional de Artă Tinerimea Română, Concertul "Christmas Jazz with Florin Răducanu & Guests", în cadrul celei de-a XVIII –a ediţii a Stagiunii permanente de concerte masonice "Coloana Armoniei".
Mai multe informatii


1 Noiembrie 2015
United Artists Festival / Florin Raducanu Symphonic Jazz Project invitata Dalila Cernatescu
Pe 11 noiembrie 2015 la Arenele Romane din Bucureștiera programat evenimentul United Artists Festival realizat de UCIMR în colaborare cu CREDIDAM. Din cauza prognozei meteo, organizatorii au decis amânarea evenimentului pentru data de 1 noiembrie 2015 pentru amenajarea unu spațiu acoperit și încălzit în aceeași incintă a Arenelor Romane. (
continuare
)
Florin Raducanu -piano, compositions & orchestrations
Dalila Cernatescu -panflute
Sebastian Mihai- ten. sax.
Adrian Flautistu- double bass
Ivan Tsonkov – drums
Gilberto Ortega- congas
With special support by Bucharest Symphonic Orchestra, conductor- Daniel Jinga
Program :
1. Sketches of Manuel de Falla for Symphonic Jazz Orchestra, piano & panflute – arr.& orch. by Florin Raducanu
2. Symphonic Jazz Overture for Symphonic Jazz Orchestra, piano, panflute & ten.saxophone / composition & orchestration by Florin Raducanu
10 Septembrie 2015
Florin Raducanu laureat al Galei de Excelenta a municipiului Targoviste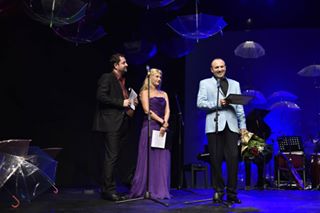 Premiera rugaciunii "Pater Noster"
într-un context de jazz simfonic. Muzica este compusă și orchestrată de Florin Răducanu care are triplă ipostază de pianist, compozitor si dirijor. Primei orchestre de jazz simfonic din România -"Romanian Symphonic Jazz Orchestra" i se va alătura Corul "Appassionato" (vocile feminine) , invitată specială fiind Dalila Cernatescu. Joi, 10 septembrie 2015, ora 20.00-"Cetatea Artei", Curtea Domnească Târgoviște
Florin Raducanu in concert in cadrul Bucharest Jazz Festival 2015, Vineri 3 iulie
Florin Raducanu-pian, compoziții & orchestrații
Sebastian Mihai – saxofon tenor
Vasil Hadjigrudev – d.bass (BUL/Spania)
Ivan Tsonkov – baterie (BUL)
& AF JAZZ BRASS ( Laurențiu Moise-trp.,Silbiu Albei-trp., Diana Suciu – sax.ten)

Bucharest Jazz Festival 2015
Radio Romania Cultural
Pe 24 iulie, va avea loc la "Hanul Gabroveni" lansarea albumului Florin Raducanu Live Jazz Portret , realizat împreună cu Big Band-ul Radio în 2014 concertul fiind transmis în direct de Radio România
New Videoclip

Florin Raducanu – Jazz Master class at "P.I. Ceaikovski" Conservatory from Kiev
In fact , the musical improvisation is a compositional procedure that every musician, consciously or intuitively, adopts. Almost all the musicians, during their childhood and adolescence, had improvisation attempts in various styles and musical genres. Moreover, any talented composer can affirm that, within the complex creative process of musical creation, there is a moment of improvisation – usually at the piano – in which the ideas begin to materialize through sounds, and afterwards taking "shape" in the writing process. Although in Baroque, the act of improvisation was part of the natural training of any professional musician, towards the end of the 17th century, the musical improvisation appears increasingly less in the interpretative act. Barely in the Romanticism, have Chopin and Liszt restarted the practice of improvisation. Of great notoriety was the meeting between Liszt and Romanian folk musician Barbu Lautaru in Iasi, when the great Hungarian piano player and composer performed a genuine demonstration of improvisational mastery.
The Third Stream phenomenon which I describe in particular here – being a proper research, not having a specialized literature containing a chronology of the specific events of this style – is also the practical subject of his creations enclosed in the Jazz Ecumenica, jazz symphonic poem-, are a "practical demonstration" of the theoretical elements of the art improvisation I detail in the book Guide of Art of Improvisation. This structure and the order of stages from this method is the outcome of personal practice and didactic experience accumulated within the work with pupils and students, this system guaranteeing the capacities of improvisation, after covering the content in an accurate manner. All technical components described in the book are applied in practice in discography projects.
---
Joi, 16 octombrie 2014 (19.00) Florin Raducanu va concerta in cadrul seriei "JAZZ PE ROMÂNEȘTE" la Sala Radio, Bucuresti. Concertul va putea fi ascultat în direct la Radio România Cultural şi Radio România Muzical si in streaming pe www.radiorormaniacultural.ro şi www.romania-muzical.ro.
Comunicat de presă – Orchestrele și Corurile Radio România
Seria Jazz pe româneşte revine la Sala Radio pentru un nou sezon: primul eveniment cu pianistul Florin Răducanu şi BIG BAND-ul Radio
Seria "JAZZ PE ROMÂNEŞTE" revine la Sala Radio pentru un nou sezon
---
Lansarea lucrarii "Îndreptar de Artă Improvizatorică de jazz " in cadrul "Bucharest Jazz Festival 2014"
Miercuri, 3 iulie 2014, 12.00 PM Hanul Gabroveni Lipscani nr. 84-88
Jazz book release event during the "Bucharest Jazz Festival 2014" : "Guide to jazz improvisation"
ARTICOL NOU


Despre evenimentul "Cartea românească de Jazz" și învățământul de jazz din România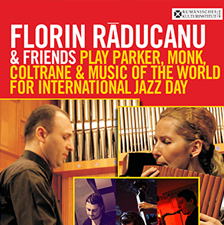 AUSTRIA: Florin Raducanu & Friends play Parker, Monk, Coltrane & Music of the World for International Jazz Day at Porgy and Bess Jazz Club, Vienna, Austria, April 30th, 2014
UKRAINE: Romanian pianist Florin Raducanu and panflutist Dalila Cernatescu performing in Kiev, Ukraine, March 2014