"Round Midnight" Arrangement for left hand in the manner of Bach
Comp. Thelonious Monk
Arrangement: Florin Raducanu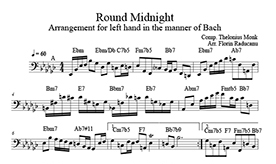 In the last 30 years, I have carried out various musical projects of classical jazz or symphonic jazz and scientific research (doctoral thesis) in which I have highlighted the common elements between European music and jazz as a universal musical art developed in the 20th century.
In one of his interviews, Maurice Ravel said: Abroad we take jazz seriously. It influences our work. The blues in my sonata, for example, is stylized jazz, perhaps more French than American, but nevertheless strongly influenced by so-called popular music" (Ravel, "Take Jazz Seriously!", Musical Digest, March 13, 1928, pp.49-51, as cited in Orenstein, A Ravel Reader, p.390).
During his visit to America, Ravel was particularly interested in jazz, Thelonious Monk was only 11 years old and from his biography it appears that he was studying classical piano with Professor Sion Wolf. In the same period, the young Thelonious studied the works of great composers such as Bach, Mozart, Beethoven, Chopin, Liszt, Rachmaninov, etc.
In my personal research, I have highlighted a very important aspect. All great jazz musicians, especially pianists, first studied European classical music and later asserted their own jazz creations. Beginning with the first ragtime pianist-composer, Scott Joplin or Jelly Roll Morton, continuing with Duke Ellington, Fats Waller, Art Tatum, Earl Hines, Count Basie, Erroll Garner, Bill Evans, Lennie Tristano, Oscar Peterson, Bud Powell, Winton Kelly, McCoy Tyner, etc. or contemporary jazz pianists, all studied European classical music first and later or in parallel the art of jazz improvisation.
At the same time, as I observed, Ravel stated in 1928, many of the European classical musicians were very interested in the music of the 20th century, the jazz.
After his early training as a complex musician, Thelonious Monk had the historic opportunity to participate in the ,,Bop revolution", when musicians were no longer satisfied with ambient jazz as dance music and wanted this music to be performed and perceived as concert music. Together with Charlie Parker and the team at Minton's Playhouse, Monk created a new music, modern intellectual jazz.
Personally, as a musician who practices the symbiosis of classical music with symphonic jazz, I have the following explanation for why certain compositions of Thelonious Monk became famous, Round Midnight or Well you Needn't being two of these. We note that many of Monk's famous compositions have a ternary form A – B – A', more precisely binary with recapitulation. This formal pattern is also often found in classical or romantic creators, the formal binary pattern with a recapitulation being made according to certain principles of making spoken discourse. The principle of question-answer or antecedent-consequent is very carefully realized in Monk's creations, both at the level of phrase and at the level of the musical macrostructure. The development of the discourse is not random, but takes its motif from the expository section, creating the subliminal feeling of unity. The recapitulation brings a rounded form, thus the musical architecture is circular, the tonal plane bringing both surprises, diversity, return, comfort and balance.
In conclusion, Thelonious Monk, despite the nonconformist appearances, applies a fairly strict pattern from the point of view of musical architecture, a unitary concept, in terms of the technique of variation of the motive that generates the melody, the dissonances brought fall within the tonal into the tonal chromatic system, the one that enables any composer the possibility to extend the metamorphosis of the melodic-harmonic material to the extreme, but within a predetermined, well-defined and, very importantly, proportionate and balanced.
 Not coincidentally, about 15 years ago I associated Thelonious Monk's famous ballad Round Midnight with the improvisational concept of Bach's preludes. Thus, I made a Bachian-style arrangement for the left hand of Monk's ballad. The live recording, from the Bucharest Jazz Festival, became audio material for the CD with the title "Back to Bach".  We can say that, through Monk's music, socio-cultural boundaries, those of musical genre or limitations in time and space, were overcome. This arrangement of mine is on the one hand a tribute to Thelonious Monk, and on the other hand a tribute to – along with Monk – the brilliant J.S. Bach."
"Round Midnight" Arrangement for left hand in the manner of Bach
Comp. Thelonious Monk
Arrangement: Florin Raducanu
Music score/Sheet music / 2 pages / PDF format
Price: $12 USD
Once your payment is received, you will receive the PDF via email
PayPal, Credit cards accepted