jazz saxophonist and flutist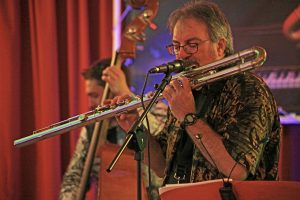 Photo: Johan Janssen
UPCOMING SHOWS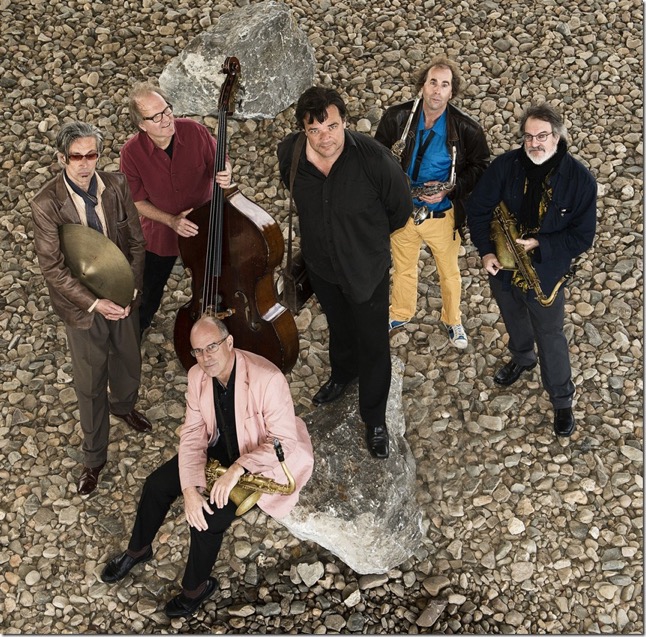 Reeds and Deeds Features:
Frans Vermeerssen – Tenor & Soprano Saxophone
Bo van de Graaf – Alto, Tenor & Soprano Saxophone
Alex Coke – Tenor saxophone, Flute & Piccolo
Michiel Braam – Piano
Arjen Gorter – Double Bass
Makki van Engelen – Drums
BIOGRAPHY
Alex Coke (born 1953, Dallas Texas) is a jazz saxophonist, flutist and composer. He graduated with his B.A. from the University of Colorado at Boulder in 1976, with emphasis on flute performance. An original member of the Austin-based Creative Opportunity Orchestra, Coke performed with Tina Marsh in various formations for over 25 years. Before moving to Amsterdam in the early '90's he received several local Austin awards including:
1988-1989 Best Jazz Band, Austin Chronicle Music Awards
(Chris Duarte and Justus)
1990 Best Saxophonist, Music City Critics Poll/Austin Texas
1990 Best Jazz Bands Music City Critics Poll/Austin Texas
(Countenance #1, and Worthy Constituents #3)
1990 Best Unsigned Bands Musician Magazine
(Countenance, and Worthy Constituents)
2010 Austin Chronicle Music Awards Hall of Fame Nominee.
From 1990-2000 and then again in 2011-2015, he toured and recorded with the internationally renowned Dutch jazz group, the Willem Breuker Kollektief. An improvisor at heart, Coke's eclectic attitude has led him to explore everything from Be-Bop to Huddie Ledbetter. His flute studies have ranged from Eric Dolphy to Indian ragas on the bamboo flute to extended flute     techniques such as those researched by Robert Dick, Ann LaBerge and Wil Offermans.
Coke's multifarious bands include the Live Action Brass Band, the Leadbelly Legacy Band, NewTexas Swing, and his post-bop quintet, The Worthy Constituents, a collaboration with longtime partner, pianist Rich Harney and with Martin Banks on trumpet. In 2015, The Worthy Constituents released WC '13, a quartet CD of original compositions. Coke's release, entitled "Wake Up Dead Man/Iraqnophobia," features two large group compositions commissioned by Tina Marsh and The Creative Opportunity Orchestra. It was recorded in the fall of 2004 on the VoxLox label which spotlights humanitarian and ecological causes.
"Wake Up Dead Man" was featured in Forum Theatre on The Death Penalty at The Eye & Tooth Festival in Austin, where Coke was a panelist in March 2009.  Coke's recording, Its Possible, recorded in 2007, features duos and trios with Tina Marsh and Steve Feld and is also on the Vox Lox label. Alex Coke has worked with Gerald Wilson, Charles  Tolliver, the Paradise Regained Orchestra ,Trio Henk de Jonge, Burton Greene, Anton Goudsmit, David Krakauer's Abraham, Inc,  and award winning poet Carolyn Forche. He has also been heard with Alejandro Escovedo, John Jordan Trio, the Mysterious Quartet From Helsinki featuring Chris Duarte, Maryann Price, Rob Verdurmen's Double Drummer Bill, Oliver Rajamani, Greezy Wheels and many, many others.
Selected discography
▪ The Struggle Can Be Enobling, Klez-Edge, Disk Respect 01
▪ZOctet, Peggy Stern, Estrella Music
▪ WC '13, Worthy Constituents, Aardvark 72023
▪ It's Possible, Alex Coke, VoxLox 308, 2008
▪ Topographies of the Dark, Sculptural Paintings by Virginia Ryan, VoxLox 108, 2008
▪ A Child's Christmas in Wales, w/ S Stern, R Harney, Aardvark Records 72008, 2006
▪ The Compositions of Eric Dolphy, BVHAAST 1005, 2006
▪ Iraqnophobia/Wake Up Dead Man, VoxLox Records, 2005
▪ S.O.S., Drummers Double Bill, BVHAAST 0703, 2003
▪ New Texas Swing, Cre-Op-Muse 010 , 2002
▪ Through The Years 1988-2001, The Worthy Constituents, Cre-Op-Muse 08, 2001
▪ Horn To Horn, Live Action Brass Band, Outpost Productions 1999
▪ Out On The Western Plains, Leadbelly Legacy Band, Outpost Productions 1999
▪ Jumping Shark, Trio Henk de Jonge, BVHAAST CD9103
▪ Trained Ants, Authorized Bootleg, Cassette
▪Alex Coke New Visions, re Records 001
With Creative Opportunity Orchestra
▪ Migration (limited release,2008)
▪ Circle of Light, CreOp Muse 08 , 2000
▪ The Heaven Line CreOp Muse 002
▪ Transformation Vol. 1 and 2, CreOP Muse, cassette
▪ RadioActive, The Creative Opportunity Orchestra, Daagnim 18
▪ Benediction, The Creative Opportunity Orchestra, LP/Daagnim Records
With Rich Harney
▪ Where Love Begins, Rich Harney, AR-72010, 2007
▪ Soul Prayers Aardvark 72007, 2005
▪ The Worthy Constituents, Cassette
▪ Aren't We the Lucky Ones, Countenance, cassette
With the Willem Breuker Kollektief
▪ Willem Breuker Kollektief at Ruta Maya Cafe Austin, Texas BVHAAST 0506, 2006
▪ With Strings Attached BVHAAST 0203 , 2002
▪The Parrot BVHAAST 9601, 2001
▪ Thirst BVHAAST 0300, 2000
▪ 25 Years On The Road (DVD/2CDS) BVHAAST 9914/15 , 1999
▪ Hunger, Willem Breuker Kollektief & Loes Luca, BVHAAST 9916 , 1999
▪ PAKKEPAPEN BVHAAST 9807, 1998
▪ Parade, Willem Breuker Kollektief, BVHaast CD 9101
▪ Kurt Weill BVHAAST 9808, 1998
▪ Psalm 122 BVHAAST 9803, 1998
. Music For His Films 1967-1994, Willem Breuker Johan Van Der Keuken, BVHAAST 9709-9710,1997
▪ Willem Breuker Kollektief Meets DJazzex BVHAAST 9513
▪ Sensamaya, BVHAAST CD 9509
▪ Overtime/Uberstunden NM Classics 92042
▪ Van Het Jaar Van De Ensembles (Compilation), Polygram 454 058-2
▪ Deze Kant Op Dames BVhaast CD 9301
▪ Parade BVHaast CD 9101
Recent Releases

It's Possible
(VoxLox 2008)
"This trio out of Austin, TX comprises voice, a variety of woodwinds (mostly flutes) West African multi-toned slit drum and toys. Several tracks are improvised over other recordings we do not hear (on #2 they are all listening to the record but not to each other!); tracks 4-7 are a suite in honor of Steve Lacy. Marsh's vocals stretch and twist like taffy, laced with whispered syllables, and the instruments provide a timeless, often ritualistic "world music" feel."
KZSU Stanford Radio 90.1 FM
"The sounds on this trio CD are both ancient and postmodern, universal and obscure. Reed and flute player Alex Coke and singer Tina Marsh have a long association through an Austin, Texas ensemble called the Creative Opportunity Orchestra, and their simpatico is evident from the first mysterious notes of It's Possible. Marsh's vocals stretch and twist around Coke's moaning, buzzing spirals and keening, fluttering lines like taffy, soaring high overhead and then dropping down for whispered syllables like some half-heard Balinese monkey chant. Beneath them, the calming tones of Steve Feld's ashiwa (a West African slit drum) give the pieces an enigmatic, almost ritualistic air. On several tracks, the trio improvises over existing recordings which we do not hear. These pieces are missing their cores, but what is left is fascinating: disconnected reaction that implies but does not reveal the whole. The results are weird, spooky and restlessly inventive."
Jazz Observer
Alex Coke/Tina Marsh/Steve Feld
It's Possible
(VoxLox 2008,USA)
An archive honoring Tina Marsh memory has been recently established in Austin, Texas, with the goal of making available to the public an important collection of recordings and documents regarding her career and life.
Tina Marsh was not just a gifted protagonist in the contemporary music but also a musical activist who dedicated her life to the advancement of arts and new talents.
On August 19 2008, Alex Coke, Tina Marsh and Steve Feld released "It's possible" their last album together, and Tina Marsh's last recording. "It's Possible" is not the type of fashionable music that sounds outdated after years. Until today it stands under the sign of timeless innovation, going from subtle, to bold and intense, travelling from African to Western inspirations, mixing ethnology, nature. emotions and associations.
Tina Marsh's pure voice is more than a complement to the magical ambient created by Alex Coke and Steve Feld, evolving as an organic part of them. Highly sensitive, she travels between poetic and elementary, expressing the unspeakable through her original vocabulary of onomatopoeic sounds and emotions, inviting us to a meeting with the unfamiliar.
The free style of arrangements extended over the boundaries of a labeled territory opens the door to adventurous combinations as on the title track, where the intensity and color of Tina Marsh's voice is wonderfully backed by the velvet sound of flute, at the point when both instrument and human voice become as one.
Unforgettable is the unusual rendering of Lonely Woman, or the meandering spiritual Deep River. A little masterpiece is "Eclipse" revealing the impressionistic delicacy of the Khaen, a Lao mouth-organ played by Alex Coke while on the collective composition "Peace Prayer", Tina Marsh singing reaches a high level of dignified beauty.
This is an album that prompts listeners wherever they live, to forget about conventions and learned patterns and let their imagination free, and "live" what they hear. It is like a momentary return to a time where humanity reinvents the music, learning how to express itself by listening to the sounds of nature.
Tina MarshPapers
 Interviews
Iraqnophobia
Alex Coke saxes political
BY JAY TRACHTENBERG
Austin Chronicle
Reviews
Alex Coke- New Texas Swing
(CreOp Muse)
"Texas music comes in all shapes and sizes, but rarely does it take the elusive form served up here by local saxophonist/flautist Alex Coke. New Texas Swing swings all right — hard — but certainly not in the traditional sense. The album's title is perhaps borrowed from NPR commentator Kevin Whitehead's book, New Dutch Swing, which examined Amsterdam's Dadaistic jazz scene. Coke, a former member of the Amsterdam-based Willem Breuker Kollektief, has injected a similar exuberance into the music of various Texas composers ranging from Huddie Ledbetter (Leadbelly) to Ornette Coleman. Recorded live at Amsterdam's legendary BimhausBimhuis, the result is a sometimes challenging, often mesmerizing, headlong excursion into creative improvisation that's grounded in the tradition of Texas folk forms, but contorted, reshaped, and extrapolated into something altogether different. Coke has gathered a cast of free-jazz veterans that includes Steve Lacy drummer John Betsch, Kollektief bassist Arjen Gorter, and Austin's CO2 vocalist/matriarch Tina Marsh. Together they have a field day winding their way through thorny musical passages. Versions of the two Leadbelly tunes were previously recorded by Coke and Marsh some 15 years ago with their Leadbelly Legacy Band, while a rendering of Ornette Coleman's lovely "Mothers of the Veil" appeared on Marsh's Out of Time. These live sides contain more depth, refinement, and energy with Marsh's acrobatic vocal dexterity providing a noteworthy foil to some of Coke's most impressive playing to date. This may not be your grandparents' idea of swing, but like many Texans, Coke sometimes likes to play by his own rules."
BY JAY TRACHTENBERG,
Austin Chronicle
Alex Coke's Iraqnophobia
"Commissioned by Tina Marsh for Austin's Creative Opportunity Orchestra, Alex Coke correlates the Texas prison setting of his previous "Wake Up Dead Man" suite with Iraqnophobia and the misfortune of innocent citizens caught in an endless war. With each movement inspired by the images of local photographer Alan Pogue, Coke personalizes hardened convicts and the Iraqi spirit by translating their characters through jazz. Taking cues from the hard bop of Sonny Rollins, the free jazz of Eric Dolphy, the soul jazz of Larry Young, and the jazz fusion of Michal Urbaniak, CO2 puts 25 years of experience as a functioning collective into the visual expressionism of their playing. Wielding a tenor saxophone to vault himself across the "Danger Line" of "Wake Up Dead Man," Coke releases pent-up emotion upon a world oblivious to the concept of forced prison labor as slavery updated. As Iraqnophobia shifts the sands of lost time to foreign lands, an exploratory communiqué between divergent cultures ripens with Marsh's vocal dervish on "Longnecks and the Shah." A healthy dose of empathetic projection and Middle Eastern modal landscapes lend Iraqnophobia its insider's view."
BY ROBERT GABRIEL
Austin Chronicle
LINKS
Buy ALEX COKE Albums on CD Baby
Buy ALEX COKE Albums on klompfoot