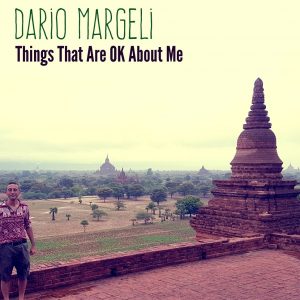 Do you miss contemporary jazz-funk from the early 80's? Dario Margeli found himself constantly listening to records from the days when George Benson would enter the Billboard Hot 100 with songs like Give Me The Night. The recent death of Maurice White also had him listening to those amazing Earth Wind & Fire records. So why not write and a song like they used to back then? The result is "Things That Are OK About ME". What is is about? When aspects of our lives are not going well, a way to feel better is to put things in perspective by counting the aspects of our lives that are still working well. This exercise of counting what is still functioning properly for us is the topic of the new song by Dario Margeli.
At a speed of 125 BPM, this fast paced song has self-help spiritual lyrics that invite the listeners to look at what is right about themselves in moments when other aspects of their lives might not be going well. Musically the song has influences from early 80's Brit Jazz-Funk bands. Particularly the Moog Synthesizer reminds of the band Shakatak. The song is sung entirely in falsetto, similar to the High Energy star Sylvester who along with synthesizer star Patrick Cowley are also an inspiration in this dance recording. Cambridge U.K. based guitar player Philip Ockelford provides a combination of funky rhythm guitar and Santana style solo guitars. South African backing vocalist Nyakwezi provides harmonies. The recording has a real drummer played by Italian musician Maurizio Antonini. Hugo Iglesias plays bass. The star of the recording is the Chicago-based keyboard player Terrell 'Bishop' Beane who takes the song to magical heights with his Moog Synthesizer.
Where you ever fascinated by those Earth Wind and Fire album art covers including the pyramids in Egypt? Well, the music video for "Things that are OK about ME", was filmed somewhere similar to that. Watch the video on YouTube and was filmed somewhere similar to that the historical archaeological zone of the temples BAGAN in Burman/Myanmar.
Dario is a naturalized US Citizen from California now living in Europe. However, his parents were foreigners. He took music lessons in the 80's, but eventually decided that what he loved most was songwriting, which he learned from carefully studying the structure of songs by The Crusaders and Brass Construction (70's funk band). In 2008 he participated as a liner notes writer in a pair of CD's released by NowAgain / Stones Throw Records. He was selected for those projects thanks to a specialized website he managed on rare 45rpms. This inspired him to get back into music and in 2011 he released his first single working with Hugh Williams, a session guitar player in Fernandina Beach, Florida. Dario has had minor success in Italy where he was featured in a campaign by clothing firm Sisley (Benetton) and in an article on Vice magazine, as well as on a radio program on Italy's main radio and TV network RAI. His recordings all feature amazing session guitar players, including in recent times Philip Ockelford from near Cambridge (U.K). In 2013 Dario started studying Buddhist meditation and decided that his songs would be based on the well-being and spiritual concepts that he is learning.