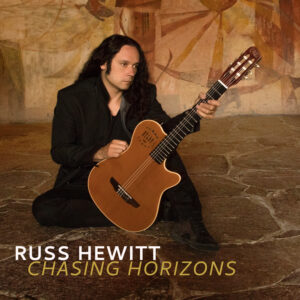 Russ Hewitt(USA)-Chasing Horizons(2022)
On Chasing Horizons virtuoso Texas-based guitarist Russ Hewitt integrates a diverse palette of Latin and world music in a selection of ten original compositions that define his entire artistic career to date. The album's beauty stems from an extraordinary synthesis of sensitivities and abilities that speaks directly to the listener's heart and leaves an enduring impact.
Beyond the technical mastery and distinctive melodicism Russ displayed on his previous three albums, lies a genuine inventiveness he infuses to every track of the new album. The Latin-Flamenco vibe that permeates his music is skilfully infused into each song in a unique way, giving the album the appearance of a collection of hits.
In addition to a band composed of high-class musicians, the present album features a couple of famous guest guitarists, the end result being a cohesive concept where every component fits together perfectly.
The album takes off with Allende on a Spanish Rumba Flamenca note, setting the stage for the exciting program that follows. Hewitt playing is concise and sharp, building the melody with what can be called "refined clarity".
The title track Chasing Horizons, features guest guitarist Nuno Bettencourt (Extreme) playing in full synergy with Hewitt on an energised composition with a nouveau flamenco tinge with outstanding bass work from Bob Parr.
On Vivir Libre, the guitarist shares the spotlight with Marty Friedman(ex-Megadeth), a real joy to hear both musicians interpolate their skills through dazzling solos.
Amor Perdido is a beautiful merging of guitar and strings thanks to the participation of the Bucharest All-Star Orchestra. Interesting how the symphonic dimension enhances the emotional touch of the guitar.
The contemplative Luminous features the guitarist weaving an unforgettable bright and shiny melody.
Gently swinging, Sunset Samba welcomes the guest musician Jorge Strunz (Strunz & Farah), the Brazilian breeze emerges with delicacy, we hear a fiesta of joyous spirits.
Luna is a composition of sheer beauty where sadness and joy mix together in a timeless cinematic narrative.
Cubalia Cafe with guest Ardeshir Farah (Strunz & Farah) spreads a Cuban perfume delicately fused in the texture of the song.
Serein-a nicely well-structured piece with a reflective, dreamy side with a superb arrangement.
Ending the album, Return to Simitai reveals an intricate melodic line flowing along the fusion between the guitar and the exotic sonority of the zither performed by the Vietnamese virtuoso Tri Nguyen.
All in all, Chasing Horizons is one of those refreshing albums to uplift the spirit, a real gem to delight the soul and beneficial for any music therapy!
Official website
Facebook
Instagram
YouTube
Soundcloud


Musicians

GUITARS
Nuno Bettencourt (Extreme, Rihanna)
Marty Friedman (Megadeth, solo artist)
Jorge Strunz (Strunz & Farah)
Ardeshir Farah (Strunz & Farah)
STRINGS
Bucharest All-Star Orchestra
(Romanian National Symphony Orchestra)
VIETNAMESE ZITHER
Tri Nguyen
DRUMS
Walfredo Reyes Jr
(Santana, Steve Winwood, Chicago, Frank Gambale)
BASS & KEYBOARDS
Bob Parr (Cher, Brian Setzer Orchestra, Barry White)
PERCUSSION
Rafael Padilla
(Miami Sound Machine, Shakira, Gloria Estefan)
PERCUSSION
Efren Guzman
(Alejandro Fernandez, Armando Manzanero, Andrea Bocelli)