Guido Santoni-Pianist /Improviser/ Composer / Arranger/Teacher/Drummer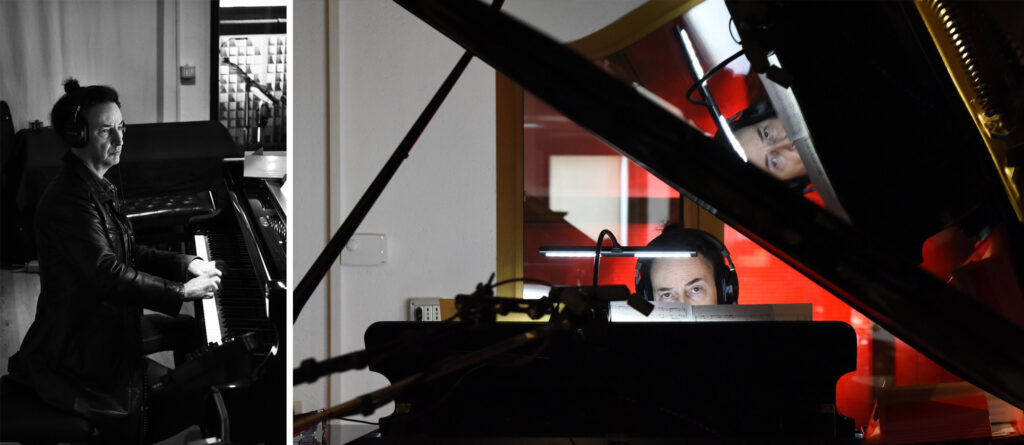 Guido Santoni Trio: Hill Tribes (2023)
"The album outlines the trio's point of arrival, a mature work which I like to define as telepathic.The nine original compositions conceived in the form of a suite is the result of almost twenty years of writing, documented by three splendid recording sessions on disk, giving rise to the trilogy.Three distinct works that each expresses my soul, experimentation, experience and projection of thought,connected by a strong stylistic connection." – Guido Santoni
---
About Guido Santoni
Guido Santoni started piano lessons when he was eight years old, and studied music at the G. Rossini
Conservatoire in Pesaro, in Italy, during the '80s. He realised that jazz was his passion after listening to the sounds of electric jazz played by Miles Davis, Weather Report and the European influenced jazz culture of Pat Metheny, Jan Garbarek, Keith Jarrett, and Paul Bley.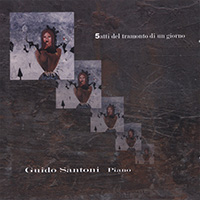 After exploring electric Jazz, Soul, and Funk for a couple of years, beginning with 2000 he made the decision to focus on his personal musical vision and discover his own identity as a pianist in solo and trio sessions. His live concert at the Muse Theatre, Ancona, Italy on October 16th, 2005 led to his first self-produced album "Cinque Atti Del Tramonto Di Un Giorno" .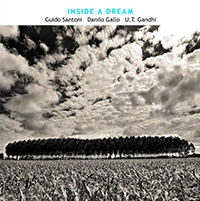 In 2007, Guido met Stefano Amerio, a highly skilled sound engineer and producer who leads Artesuono, one of the reference studios of the German label company ECM. With Stefano, Guido formulated his concept for a piano trio which includes Danilo Gallo, double bass, and U.T. Gandhi, drums, and in February 2009, a dream came true with "Inside a Dream", which was produced and distributed by the prestigious label Artesuono, available in Japan from 2011. Immediately, the album won the 2011 "Jazz Audio Disc Silver Award" from Jazz Tokyo – Jazz Critique Magazine.
The critics wrote:
"An awesome piano trio from Italy with a beautiful melody line which is generated by deep piano sounds, improvisation with unleashed exuberance and a wonderful rhythm section. A masterpiece of piano trio improvisational work which combines the sophistication of modern European style with the energy of traditional jazz".
In 2012 the Vol.5 compilation produced by famous producer Mr. Terashima came out in Japan and he selected one of Santoni's songs entitled "My Father" from Guido Santoni trio album -"Inside a Dream".
The second work of the piano trio led by Guido Santoni, long awaited in Japan, is titled "Fit To Fly" and was released by Artesuono in 2015.
With the album "Fit To Fly ", Guido Santoni confirms expectations and consolidates critical success in both Italy and Japan.
He was awarded in 2015 by the authoritative Italian magazine Jazzit Award 2015-Jazzit 100 Greatest Jazz Album and interviewed in 2016. At the same time he achieved first place in Japan with the best-selling record in several months.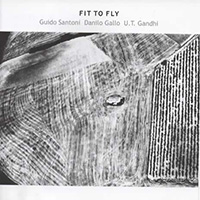 "There are so many ways to express your own creativity in music. I have always followed the emotional way, learning to listen with the heart in order to create a sound that reflects the deepest parts of my soul and feeds the emotions that are translated into warm colours." This is how Guido Santoni himself describes the way he creates his own music, and in fact this new album – "Fit to Fly" – literally takes the listener up to the clouds of creativity, still on the path of the first Artesuono album, "Inside a Dream".
This new album deals with a second inner search, an adventure that listens to the inner voice of pure Art. Here, the piano trio opens its skills and imagination to the universal language of music. The black and white keys become invisible under Santoni's hands, while interacting with Gallo's double bass and Gandhi's percussions in a tapestry of impressionistic fragments and sophisticated harmonic textures. The result is a constantly challenging trio interplay full of tension and release, strong and delicate pulses made of wood, leather and metal vibrations.
As some critics wrote:
" Guido Santoni is a music impressionist, he can't and shouldn't be classified or limited to any genre. Once perfectioned his technique,the piano is an instrument where Guido composes his journey into the depth of human's soul, a journey open to all those people who are still ready to discover uncontaminated atmospheres.Unlimited beauty expressed with passion "
In 2017 for the second consecutive time, Mr. Terashima selects a Santoni composition for his own
compilation Vol.10., the song is "Fit To Fly" from Guido Santoni trio album – "Fit To Fly".

"Inside a Dream" and "Fit To Fly" might be called concept albums that are exclusively made up of original material with central themes and new harmonic textures whilst leaving ample improvisation space.
Reviews
Guido Santoni: Inside A Dream AAJ Italy Staff By AAJ Italy Staff / February 28, 2011
Guido Santoni Trio – Fit to Fly /Jazz Convention / Mercoledì 24 Febbraio 2016
Guido Santoni Trio: Fit To Fly Neri PollastriBy Neri Pollastri / May 4, 2016
Links