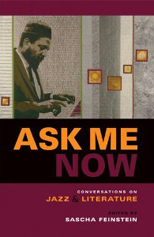 Ask Me Now: Conversations on Jazz and Literature
Sascha Feinstein. (Amazon.com)
Ask Me Now explores the relationship between the language of music and the music of language with 20 conversations on jazz and literature. Writer, editor, and saxophonist Sascha Feinstein gathers a variety of artists, poets, musicians, fiction writers, essayists, playwrights, and record producers for discussions on the elusive but engaging relationships between jazz and literature.
Featured artists include central figures of the Black Arts Movement such as Amiri Baraka, Jayne Cortez, Haki R. Madhubuti, and Sonia Sanchez as well as distinguished music critics Gary Giddins, Dan Morgenstern, and Eugene B. Redmond. Winners of the Pulitzer Prize for poetry Yusef Komunyakaa and Philip Levine, outstanding jazz musicians Bill Crow and Fred Hersch, and several writers who cross literary genres: Hayden Carruth, Cornelius Eady, David Jauss, William Matthews, Lee Meitzen Grue, John Sinclair, and Al Young all contribute their thoughts to the book.
Late in his life, confined to a chair or bed, Matisse transformed a simple technique into a medium for the creation of a major art. "I have attained a form filtered to its essentials." Cutting dynamic shapes from painted paper, Matisse created his images. While producing pieces for Jazz, the artist used a large brush to write notes to himself on construction paper. The simple visual appearance of the words pleased Matisse, and he suggested using his reflective handwritten thoughts in juxtaposition with the images. The original edition of Jazz was an artist's book, printed in a limited quantity. This selection from the original is an exquisite suite of color plates and text that, like the music it was named for, was invented in a spirit of improvisation and spontaneity. These magnificent cut-outs of pure color celebrate the radiance and emotional intensity of the artist's oeuvre.  Full color illustrations throughout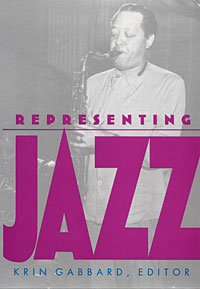 Representing Jazz
Editor(s): Krin Gabbard
Contributor(s): Krin Gabbard, Arthur Knight, Leland H. Chambers, Frederick Garber, Christopher Harlos, James Naremore, Adam Knee, Robert P. Crease, Karen Backstein, Mona Hadler, Michael Jarrett, Barry Keith Grant
Published: 1995
Pages: 328
Illustrations: 39 b&w photographs
Jazz in Modern American Literature
Author: William J. Harris
Publisher: University of Kansas
PDF: Click here for the full text
University of Kansas

Jazz and the African American
Literary Tradition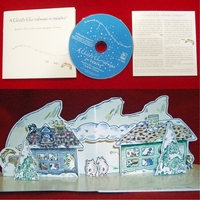 A Child's Christmas in Wales
Alex Coke, Suzi Stern, Rich Harney
This sparkling work presents a reading of the timeless Christmas tale enhanced with sound effects, improvised jazz and three original songs. Adults and children alike will marvel at the delightful pop-up art of Thomas's Christmas village in the cd package
(CDBaby)