"Ararur: Place where thoughts and memories dissolve into the present moment"
The Music of Ararur is a mixture between World Music, Jazz, instrumental music and Portuguese lyrics, blend together in a very personal mix, with something new to offer.
The quality of this work was awarded at the "13th Independent Music Awards". The album "Ararur" was considered BestJazz with Vocals Album of 2013 by a judging panel that featured exceptional recording artists such has Ann Wilson & Nancy Wilson from the Heart, Chiddy Bang, Suzanne Vega, G. Love, Sharon Jones, Laurie Anderson, Jim Lauderdale, Krewella, Shelby Lynne, Joshua Redman, Lunice, The Wood Brothers, Hudson Mohawke, Raul Midon, Melissa Auf der Maur, Aoife O'Donovan, Judy Collins, Meshell Ndegeocello, Arturo Sandoval, Band Of Skulls,, etc, and also record label executives, club and festival talent buyers, music journalists and film & tv music supervisors.
And during 4 months, people from all over the World voted for the song "Ela" as Best Jazz with Vocals Song, and the CD "Ararur" as Best Jazz with Vocals Album.
In Portugal, Club Português de Artes e Ideias elected composer/guitarist António Silva and lyricist/singer Ângela Maria as "Young Creaters 2013" and choose them to represent portugal in the "VI Biennial of Young Artists of the CPLP (Community of Portuguese Language Countries)" that took place December 2013 in Brazil.
In 2017, Ararur releases their second album "Mielikki" (the goddess of the forest). The music "Trevas Coração" was voted by the public "Best Jazz with Vocals Song" at The Independent Music Awards in 2018. Now we are releasing the single Promontório.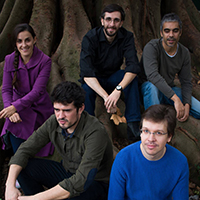 Ararur(Portugal)-Promontório
Composer: António Silva
Instrumentation
António Miguel Silva – Guitar
Ângela Maria Santos – Vocals
João Capinha – Saxophones
Francisco Brito – Double Bass
João Rijo – Drums