The JazzWorldQuest Showcase 2016 is now launched! List of featuring musicians participating: Joseph Patrick Moore, Florin Raducanu, David Ellington, Robin Menuett Trio, Colin D'Cruz, Bob Thompson Band, Russ Hewitt, Bill Mentz, Kenn Smith, Ted Borodofsky and Southern Jazz, Kajetan Borowski Trio, Phos Duo, Gino Foti, Bill Hart. Mimika Orchestra.
Click here to listen & download

Florin Raducanu - Symphonic Jazz Poem - Now as a Digital Download
Florin Raducanu and Sebastian Mihai @ Green Hours Jazz Club Bucharest
on December 23 2016, 8.00 PM:
Romanian Christmas Jazz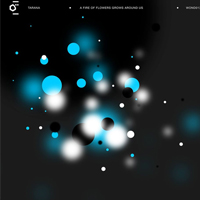 NEW CD: TARANA: "A Fire of Flowers Grows Around Us" "A Fire of Flowers Grows Around Us" sparks a new direction for Ravish Momin's Tarana now in a new format and reaching new realms where the acoustic orbit melts together with the electronic universe. As an open minded musician, Ravish Momin was never confined to a single paradigm. Back in 2006 in an interview with JazzWorldQuest Ravish noted: "For myself, I really don't prefer one culture over another, though i'll always have roots in Indian Music." And this is exactly what he did all along his career, inventing, mixing real and non-existing traditions with the most remarkable freedom, like a rebel with a cause, yet one who embraces the genuine diversity of human culture filtered through sensitive personal lens.
The new album is another spectacular chapter of his musical journey as a composer, percussionist and above all, experimentalist. An array of soundscapes emerges, with rhythms and effects fused in a coherent mominian atmosphere rising above overheard formulas, reaching dark deep climaxes boosted by a hypnotic layer of percussion, human voices and effects. This is music with imagination but also one that stirs the imagination. Check the synergistic dance of trombone, the intense drumming and synths on the tribal exotic "Batik", "Gara Guna" where trombone and underlying electronics breezes combine in a majestic utopian march, hear "Keherwa's" dark voices and the ascending rhythms rising in darkness, let the hallucinatory "Myvatn" wrap you in haunting synths, dance to the "Nanatronic" shouts and beats. Standing ovation for "Safar" when the trombone takes a melodic turn into a syncopated river of rhytms, let's sink into the atmospheric "Tehrah" flavored by mysterious echoes of another Dead Can Dance, "That Tweaky" spreading a sequence of futuristic crescendos backed by heavy rhythms. Listening is discovering every time a new " Fire of Flowers" flowing high up and free. Ravish Momin tells an endless story made of thousand voices inviting everybody to join his magical universe. Leave any prejudice behind and step in.