Coke Michel Sextet in Concert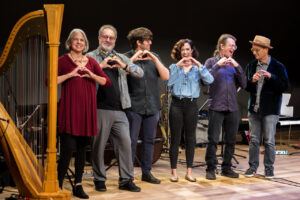 Performing compelling music with origins in jazz, classical, folk, extended technique, and improvisation, The Alex Coke Carl Michel Sextet features musician/composers Alex Coke on woodwinds and guitarist Carl Michel. Together with Austin Symphony's principal harpist Elaine Barber, Liminal Sound Series producer Bob Hoffnar on pedal steel, first call jazz bassist Dr. James Suter, and talented Austin percussionist Carolyn Trowbridge on vibes, the sextet will perform at the Draylen Mason Studio at KMFA on Thursday June 9, 2022 at 7:30pm.
This unique ensemble is an outgrowth of Coke and Barber's popular weekly Driveway Concert Series that ran from April 2020 through June 2021 in response to music gigs and gatherings being curtailed as a result of the pandemic. The duo performed outdoors, socially distanced, with each member of the sextet individually in turn, appearing as special guests. Playing music as a gift to their local neighborhood at first, the project took shape as the possibilities for meetings indoors returned.
The Monday night concerts made way for rehearsals, new composition, and the formation of an unusual and very accomplished performing and recording ensemble. They released their first CD together, The Emissary, in October 2021 to good reviews and now a year after the final driveway concert, a second CD is in the works.
As a founding member of the Creative Opportunity Orchestra with many projects and recordings to his credit, Emmy Award winning composer Carl Michel had this to say : "The 6tet is a welcomed opportunity to work again with my friend Alex Coke. The "driveway concerts," that were presented by Elaine Barber and Alex to their neighborhood, provided a way to collaborate with other musicians over the course of the pandemic shutdown. That process initiated the formation of the 6tet, a unique collaboration of instruments with some great musicians. This collaboration has opened up my palette in composition and arranging for these individuals."
For the upcoming performance and live recording, works will include new arrangements of music by Thelonious Monk, John Coltrane, Valentyn Silvestrov, and Paul Motian with some new compositions by Coke and Michel in the mix .
One of the first jazz ensembles to perform at KMFA's Draylen Mason Studio, the concert on June 9 is for an all ages audience. Presale Tickets are on sale now and will also be available at the door.
For more info and sound samples please visit:
https://www.carlmichel.com/home/alex-coke-carl-michel-sextet/
https://alexcokecarlmichelsextet.bandcamp.com/releases
This performance is made possible in part thanks to The Liminal Sound Series, dedicated to the commissioning of new works and collaborations between visionary composers and Austin, TX. based musicians and performers.
"They can drift with meditative beauty or roar with passion… their collective sound lingers in the memory." – Jerome Wilson on The Emissary at All About Jazz