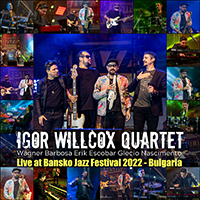 THE LONG AND THE SHORT OF THIS ALBUM…
This album has a special meaning for us. It's the result of 3 concerts that we did in Eastern Europe. We visited fantastic countries including Bulgaria, Slovenia, and Serbia. The people were friendly and accommodating. We were well received and celebrated!!! Bansko Jazz Festival was our first concert. A
grand festival with an impressive setup allround. A picturesque, cozy, and mountainous city with polite and attentive people, rich in culture.
It was so exciting! Certainly, one of the best shows we've ever done, and the memories will last
a lifetime! To everyone from Bansko, thank you for the kindness, we hope to be back soon!
Special Thanks to:
Iliana Ivanova, Nikolina Mihailova and all of Bansko Jazz Festival staff, Branislav and all of Nisville Jazz Festival staff, Primoz and Imago Sloveniae.

To my dear brothers, wonderful musicians and human beings: Erik Escobar, Wagner Barbosa,
and Glecio Nascimento. Thanks for always delivering your best! Love you, my brothers!

To my beloved wife, Audrey Willcox, for giving me love and all the support for this tour. To my
mom, Sonia Willcox, and my sister Kika Willcox.

To my friends Ze Cintra, and Vanessa Tonetto for the press kit photos. To my English teacher Myrtle! Your lessons were essential for my self-confidence and they assisted me during the tour.

To my great friend and drum master Giba Favery, who kindly provided the IP&T space for our open rehearsal.

Recorded at Bansko Jazz Festival 2022, Bansko, Bulgaria. This record was made thanks to www.banskojazzfest.bg
Credits:
Wagner Barbosa: Saxophone, Aerophone
Erik Escobar – keys
Glecio Nascimento – bass
Igor Willcox – drums

Mixing and Mastering: Igor Willcox
Cover Photos: Dimitar Aleksov
Text Review: Myrtle Fourie

Sponsors:
Igor Willcox uses Nagano Drums, Domene Cymbals, Datalink Cables, Williams DrumHeads and
DrumSticks, and Power Click.
Wagner Barbosa uses Roland.

Track List:
1- 2020 (Igor Willcox)
2- U.F.O (Igor Willcox)
3- Brotherhood (Igor Willcox)
4- Message From Another Dimension (Igor Willcox)
5- North City (Igor Willcox)
6- The Scare (Igor Willcox)
7- Thankful (Igor Willcox)
8- Room 73 (Igor Willcox)
Label: Room 73 Records
Release Date: Mach/15/2023