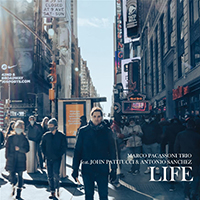 Marco Pacassoni Trio feat. John Patitucci & Antonio Sanchez (Italy): Album: Life
Label: Egea Music Giotto Music
Marco Pacassoni: vibraphone, marimba
John Patitucci: electric and acoustic bass
Antonio Sanchez: drums
Life is a dream told in music. I couldn't have given it a different title. It is the dream of a life lived intensely every day. Like that of every individual, but in particular that of every musician. A life that never as today must necessarily include diversity to be fully lived. I don't think an uncontaminated artist has any sense now, if not nostalgic, because as someone said "we are not islands" but the need to merge and not separate in the name of who knows what has ever happened in the past, still remains the goal to reach.
I was born in Fano, a small town famous for its Carnival and for being "The City of Fortune". In my case, luck in luck was that Fano has hosted an important Jazz Festival for almost thirty years and I had the opportunity to listen to the best musicians in the world in my home from an early age. I have probably also listened to historical concerts that I don't remember anything about, but what is certain is that that music made everyone breathe a different air, even if at first only for a few days a year. It was almost inevitable that I went to their house as soon as possible to learn and understand.
At Berklee College of Music in Boston I understood what it means to confront and learn from others. It is there that my microcosm broke up to make room for a horizon made up of multiculturalism and inevitable contamination. It goes without saying that in such a school, you enter thinking you are good and if you are lucky, and if you are really good, you come out with something less in terms of self- esteem. Such a badly lived place could also definitively undermine anyone's aspirations and career because there are more good people in the world than you can imagine. Or perhaps because there is inevitably a greater concentration there …
It is a place where provincialism becomes folklore that can implode and destroy you or explode into a universe of different sounds, tastes, smells, shapes, cultures that gradually become more and more familiar. Contrasting events and emotions transformed into notes that I sang with the voice of my instruments.
And after what has been said so far, I can't even say what kind of music it is. The initial rhythm is complex, but it's best to stop counting and let this stream of notes try to excite you. Because in this piece there are no virtuosity and there is no comparison, but only dialogue. They are more or less complex lines that intertwine, almost in a whisper and at times it seems to me, listening to John's solo, that the notes really become words.
Transmitting the sensations of a dream is difficult, but it becomes possible if you tell your dreams to two great musicians and to two beautiful people like John Patitucci and Antonio Sanchez, whom I will never stop thanking for all this. But this is only the "title track" and so … the best is yet to come. Thank you so much.
Website Spotify CD Store Facebook Instagram YouTube