Brazilian artist GUAI records her new album in Rio
Great news! Brazilian female singer GUAI is recording her new album in Rio. Its title remains a secret, but release is planned for early 2021
Meanwhile, the artist promises to rock the internet with a brand new
single and music video to be released in October.
Brazilian artist GUAI records her new album in Rio
This new album was started in early 2018, under the control of
Latin Grammy Awarded producer Nema Antunes, attracting a talented crew of collaborating musicians like Luiz Brasil, Teo Lima, Marcelo Martins
and even the late Arthur Maia.
Female composers are also celebrated in this work, such as Jana Figarella,
Luiza Salles and Thaís Mota along with Carlinhos Brown and Ivan Lins plus
several international guest performers to light up the team.
Even while taking extra precautions during the pandemic, GUAI is moving ahead quickly on her return to the studio, hungry for more success, starting with the new single next month.
"There have been some tough years in my battle to see this project reach the world, but isn't it true that calm seas never made a good sailor? There will be super guests voyaging aboard our boat. We need to spread good news in this crazy time we live in. To paraphrase producer Nema Antunes, 'I tell you all: Nothing will stop us!' " emphasizes GUAI.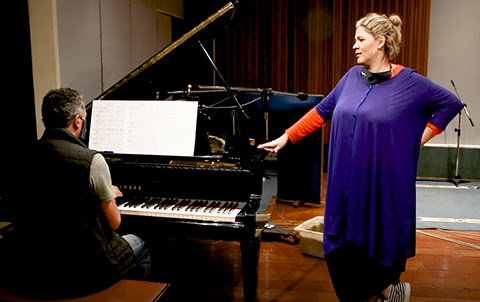 About the artist GUAI
In capital letters, GUAI is a Brazilian female singer who has Brazil and Jazz
in her voice and soul. She had her first stage experience at the age of 4.
At the end of 2015 GUAI released her debut album entitled DAMA DE PAUS.
This prompted great support from some of the biggest names in Brazilian music, for example Roberto Menescal, Ivan Lins, Carlos Lyra and others. As a result, she received numerous international reviews and was nominated for the biggest music awards in Brazil in 2011, 2012 and 2017, the year that she launched internationally in Lisbon, Portugal.
In conclusion, like and follow @GUAImusik and stay tuned for the artist's news!