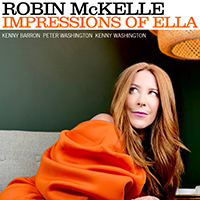 Robin McKelle
Nouvel album Impressions of Ella
Sortie le 02/06/2023 chez naïve / Believe
Robin McKelle revient au jazz avec le disque Impressions of Ella, qui comprend onze standards immortalisés par Ella Fitzgerald. Accompagnée de Kenny Baron au piano, Peter Washington à la basse et Kenny Washington à la batterie, la chanteuse Robin McKelle est de retour au sommet avec cet album dédié à sa plus grande influence musicale, Ella.

Prévu pour le 02 juin 2023 sur le label naïve, l'album Impressions of Ella est un hommage aussi inspiré que personnel à la First Lady of Swing. D'Embraceable You en passant par April in Paris, How High is the Moon, My One and Only ou Taking a Chance on Love, on retrouve sur Impressions of Ella la chanteuse Robin McKelle très inspirée et qui parvient à donner souffle à ces classiques intemporels. L'album révèle une Robin McKelle plus expérimentée et avisée que jamais. Plus de 15 ans après son premier album, elle est enfin prête à affronter la charge émotionnelle de ces standards du jazz."

Ma voix a mûri, et moi aussi. J'ai senti qu'à ce moment de ma vie, ces paroles avaient un sens pour moi. Impressions of Ella est comme un retour à la maison pour moi. Comme une réunion familiale après des années de séparation. Une reconnexion avec la musique qui m'a nourrie pendant toutes mes années de formation musicale, et qui furent largement influencées par Ella Fitzgerald" a-t-elle expliqué.

Pour regarder et diffuser Embraceable You :https://youtu.be/MP1jZ0m-8zA

De la country au R&B, Robin McKelle a consacré toute sa carrière à explorer l'immensité de la musique américaine. Avec Impressions of Ella, l'artiste chevronnée renoue avec son premier amour : le jazz.
En 2006, son premier album éponyme Introducing Robin McKelle explorait une douzaine de standards intemporels des années swing ("Come Rain or Come Shine", "Night and Day", "On the Sunny Side of the Street"). Pour son dernier album, McKelle s'inspire de sa plus grande influence artistique : Ella Fitzgerald. "Cette idée m'est venue parce qu'Ella a été ma première introduction au jazz vocal. J'ai tant appris de sa façon de chanter. Son swing et son interprétation résonnent en moi."
Pour donner vie à cette idée, Robin fait appel à un tout nouveau trio de musiciens de jazz renommés : le batteur Kenny Washington, le bassiste Peter Washington, et le grand Kenny Barron au piano. "Je n'étais pas intimidée à l'idée de jouer avec eux, bien que leurs CV soient vraiment impressionnants. Je me demandais simplement si j'allais être au niveau, et si nous allions nous entendre. C'était une chance inouïe de pouvoir chanter à leurs côtés".
La rencontre entre un chanteur et un musicien est peut-être l'une des unions les plus profondes et extraordinaires de la musique. Kenny Barron, virtuose du piano jazz, le sait mieux que quiconque. Ayant fait ses armes en tant que sideman pour Philly Joe Jones et Dizzy Gillespie, il a enregistré plus de 50 albums, sur plus de cinq décennies.
Avec Impressions of Ella, Robin McKelle ne tente pas de tout réinventer ni de limiter son potentiel d'expression créative. Tout en faisant l'éloge de notre "First Lady of Song", l'album marque pour Robin un inéluctable passage à l'âge adulte, à un moment de sa carrière où son travail acharné porte enfin ses fruits.
En tournée :
04 Mai 2023 – Bruxelles (BE)
06 Mai 2023 – Courtrai (BE)
17 Mai 2023 – Deauville (FR)
15 Juin 2023 – Chatellerault (FR)
28 Juin 2023 – Ajaccio (FR)
11 Juil. 2023 – Chambery (FR)
14 Juil. 2023 – Maspalomas (FR)
21 Juil. 2023 – Narbonne (FR)
02 Aout 2023 – Marciac (FR)
13 Aout 2023 – Annecy (FR)
12 October 2023 – Reims (FR)
04 Nov 2023 – Bordeaux (FR)
10 Nov 2023 – Rouen (FR)
11 Nov 2023 – Conilhac-Corbières (FR)