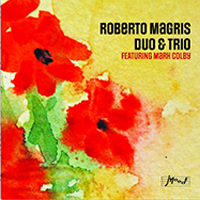 Roberto Magris(Italy)-Cool World
Composer: Roberto Magris
Album: Roberto Magris Duo & Trio Featuring Mark Colby
Label: JMood Records
Roberto Magris at JMood Records
Italian pianist Roberto Magris has developed his career in synergy with the best of American jazz, the proof is his work of great diversity and inventiveness where experimentation has always played an important role. His collaborations with American jazz personalities have proved to be not only inspiring but also a basis for a creative dialogue that has made its mark on all the albums he has released, his latest album is one of them.
Roberto Magris Duo & Trio brings to the fore the collaboration with late saxophonist Mark Colby present on six of the album's eleven tracks. It is worth mentioning that the two musicians played together on "Sun Stone" released in 2019.
The other songs are performed by Magris accompanied by a trio with whom the pianist has collaborated many times in the past: Elisa Pruett, bass, acoustic, Brian Steever, drums, Pablo Sanhueza, congas.
Right from the first composition, the mastery of the two performers is evident and the balance of forces is remarkable. We listen to two musicians at the height of their creative powers combining their personalities with a naturalness of great finesse.
The trio gives us superb versions of familiar standards, each filtered through the creative mastery of the pianist.
The album contains four originals in which Magris's compositional mastery is complimented by Colby's clear, soulful phrasing.
Considering that Colby passed away two years ago, this album is a historic recording, and here we have to thank both Roberto Magris and his friend Paul Colins at JMood records for giving us the opportunity to listen to such a collection of jazz gems.