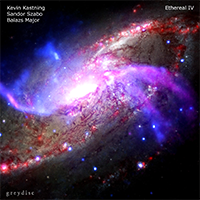 Kevin Kastning // Sándor Szabó // Balázs Major-First Occurrence
Album: Ethereal IV (2021)
Label: greydisc
Beyond the deep knowledge of guitars of the three musicians lies a shared artistic sensibility that leads us to a magical universe of uncharted territories. Listening to these 6 pieces infused with a fascinating spatial fluidity you may think about a collection of Pictures at a Cosmic Exhibition.
Creativity and precision merge together in swirls of timeless sonorities.
Ethereal IV was recorded at the end of Kevin Kastning's 2018 European Tour. The album was recorded in a single day at the Kismaros Concert Hall in Kismaros, Hungary, and features Kevin Kastning on 30-string Contra-Alto guitar, Sandor Szabo on electric guitars, and Balazs Major on percussion.
Kevin Kastning: 30-string Contra-Alto guitar
Sandor Szabo: Electric guitars
Balazs Major: Percussion
Website Bandcamp