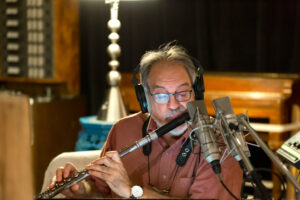 Alex Coke
Sunday November 13, 2022
Monks Jazz Club
Austin TX 78702
Alex Coke premieres a new suite, The Inner Kingdom, in collaboration with Austin visual artist Christopher Hynes, for an experience of art and music you won't want to miss.
with
Alex Coke, reeds and flutes
Elaine Barber, concert harp
Bruce Saunders, guitar
James Suter, bass
Masumi Jones, drums
Bruce Colson, violin
Joan Carlson, violin
Martha Carapetyan, viola
Carolyn Hagler, cello

Tickets: https://www.eventbrite.com/e/alex-coke-the-inner-kingdom-premiere-tickets-444752656167
or
LIVESTREAM
BIOS
Composer Alex Coke plays flutes and saxophones. An original member of Creative Opportunity Orchestra, Alex was a featured composer/arranger and soloist on several CO2 recordings since the early 1980s. From 1990-2010 he toured and recorded with the internationally renowned Dutch jazz group, the Willem Breuker Kollektief. An improvisor and experimentalist with a wide range of interests from avant-garde and bebop jazz to folk and world traditional musics, Alex has led numerous ensembles like Live Action Brass Band, The Leadbelly Legacy Band, New Texas Swing, and The Worthy Constituents, as well as touring and recording with many offshoots of the Dutch jazz and contemporary music scene.
More at
https://alexcoke.home.xs4all.nl
Christopher Hynes, is the youngest of 10 children and grew up in Washington, D.C., around artists, writers, and politicos. As a young man, he worked as a studio assistant for several Washington artists and he also worked in an archival frame shop but mostly he played in rock and roll bands until 1988 when he turned to the visual arts full time. He's mostly self-taught and had numerous group and one-man shows in Texas, New York, D.C., and several other cities in the U.S. He has lived in Austin since 1984. He is in many Private Collections across the United States.
"There is a little bit of something in everything, and that is what I like to explore"
More info at:
https://christopherhynes.com