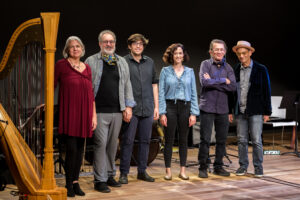 Photos: KT Yarbrough
Alex Coke -Carl Michel Sextet
WEDNESDAY November 30, 2022
7:30pm
41 Navasota Street
Austin TX 78702
Tickets: https://www.eventbrite.com/e/alex-cokecarl-michel-sextet-tickets-404669827347
Saxophonist / flutist Alex Coke and guitarist Carl Michel bring together an exciting sextet of busy Austin musicians including Austin Symphony's principal harpist Elaine Barber, pedal steel player Bob Hoffnar (Liminal Sound Series), first call double bassist James Suter, and popular percussionist Carolyn Trowbridge performing and recording compelling music.
With origins in jazz, classical, folk, extended technique and improvisation this live performance and recording includes new arrangements of music by Thelonious Monk, John Coltrane, Valentyn Silvestrov, and Paul Motian with new music by Coke, Michel, and Hoffnar in the mix.
This performance is made possible in part thanks to The Liminal Sound Series, dedicated to the commissioning of new works and collaborations between visionary composers and Austin, TX. based musicians and performers.