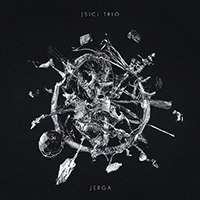 (sic)Trio(Argentina) – Noosa
Composer: Adolfo Trepiana
Album: Jerga( ears&eyes Records, 2022)
'Noosa' (4:59): The final track starts with a piano intro and samples. It draws inspiration from a psychedelic experience that turned out not the way it was expected. This also happened traveling far from home days before the pandemic outbreak. This unfortunate event put a stop on that journey.
Charles Gorczynski (bandoneonist, saxist, composer and of Colorlist, Redwood Tango) says this and sums it up best: "(sic)Trio is a contemporary jazz group that integrates widespread elements from Argentine tango and Scandinavian instrumental music. Their sound is free-flowing and impressionistic, focused on exploring melodies inside of carefully crafted rhythmic environments. Tango influence is clear with both the sound of the bandoneon and the melodic focus, but tango lives in the lifeblood of the music instead of taking precedence. Instead the direction is akin to other genre-bending trio jazz projects like The Bad Plus, Dawn of Midi, Little North, Tord Gustavsen, or Girls In Airports."
'Jerga' is (sic)Trio's debut album. Just as their name suggests, there is no mistake in this trio. 'Jerga' comes to us as a special slang at the middle of many possible crossroads. A contemporary manifest that breaks physical barriers and unifies new expressions with a new code.
Adolfo Trepiana (bandoneon) and Noel Morroni (piano) met at the beginning of their musical careers as a part of the boiling scene of the New Tango in Buenos Aires, and have come together again, more than a decade later to record their own original music. Each established in their own composer's path, they have joined tango expression with jazz, rock, and avant-garde with the help of the third musician in this band: drummer Nacho Coppolecchia.
Listening to this music we think of shadows that stalk us, shadows that return to us a melancholic hip hop filled with lots of air and waves of rhythm. This music lets us dive deep into the depths of watery and atemporal surfaces. We sink in the shiny eye of a Río de la Plata 'maelström'. Inside we see a whirlpool of free reeds saying farewell to the buttons of the glowing bandoneon. The piano attacks every corner of the music staff finally flying free hand in hand with the intuitive drum-kit maneuvers.
It's interesting to recall that many of these compositions were written aboard different cruise ships while working in the house band, battling the rigor of the seas and spanning great distances across the world.
Like Ulysses in his ever-returning odyssey, we feel suspended in air and water. We are halfway between coming back home or staying offshore. We don't know what's next. We are held expectant almost on trial about what is going to happen with (sic)Trio. What new metric modulation or timbre will this trio use? Maybe the track 'Noosa' does this best. This track makes reference to the Australian region by the sea. A beautiful journey that can go wrong and even strange. We can remember the unheimlich sense of being in a place that Freud explains in his essays. But this time, instead of a suit and tie Freud, we have an 'arrabal' version of him with a Nik Bärtsch shirt.
These musical waters that come vice-versa from Europe to Argentina embrace in unity. They unite in a faraway, distant, and dark echo although we can't figure it out. There is a pure black scenario that resists the flashing lights. In it, we can find a time of presence, dialogue, and debate. This acoustic nucleus is the x in (sic)Trio's map. A present time with a musical stereo. Past and its tradition on one side, futuristic hype (alas! the pandemic) on the other.
'Jerga' stands as a self-spiraled record that calls to us even when it's talking to itself. It's difficult to resist this fatal attraction, hard not to throw oneself in the water and risk it all. The music feels like a deus ex machina that propels us into a harmonic and melodic triangle constructed by these three Argentinians.
We can welcome this, or we can say goodbye to what we see: a purified original nostalgia.
Personnel:
Adolfo Trepiana – Bandoneon
Noel Morroni – Piano
Ignacio Coppolecchia – Drums