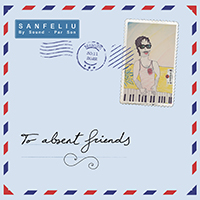 Sanfeliu(Australia)-Album: To Absent Friends(4000 Records, 2022)
Sanfeliu's sophomore album To Absent Friends is a collection of songs and sound-collages about the people that make us who we are: friendships, relationships based on the free sharing and exchanging of care, nurture, pleasure and knowledge in different times and places.
Like each friend, each song presents different patterns, and a different relationship or exchange model: some friends you see every week, some every summer, some sporadically, some regularly, but they all share a focus on self-reflection, awareness, cooperation, collection creative pursuits, shared passions that bring you together.
Similarly to friendships, these songs show an interest in change, growth, transience, willingness to embrace change and to grow. Some pieces have a clear pop-song structure with verse, bridge and chorus. Others have a ballad structure, and rely on the repetition and contrast between vocal and instrumental parts. Some are entirely built on repetition, whereas others explore development and change, with slowly shifting harmonic sequences.
"In most of the pieces," says Sanfeliu, "working with very minimal rhythmic and melodic motifs and presenting these across both piano and subtle synth layers helped me integrate the writing into something that allowed for more complex arrangements, whilst feeling still natural, seamless, organic."
The album's opening track, 'To Absent Friends', is a simple note addressed to all our dear friends: perhaps a letter, or a postcard, a message that travels through space and place between oneself and another, bridging that distance and using it as a strength to build a process of active exchange and communication.
Several of the songs in the album refer to actual people: friends, relatives, writers, philosophers, thinkers and activists that have been influential in Carles' life.
For example, 'Leopardi' is dedicated to the 19th century Romantic poet Giacomo Leopardi, possibly the founding father of emo-core music/poetry, and draws heavily on his own lyrics.
'El Rey y la Reina de los Desamparados' is dedicated to Kurt Cobain and its lyrics are an adaptation/mechanical translation of his diaries.
In contrast with Sanfeliu's debut album (Flores – Colores), To Absent Friends has perhaps a brighter sound, and more uplifting songs with a clear pop structure, whilst continuing their exploration of melodic variety from different musical traditions.
Recorded at Moon Room with Nell Forster and mastered by Marly Lüske at Alchemix Studios, several friends also joined the creative and recording process: Isabel Torres plays flute on 4 songs, Paco Johnson-Cash contributes guitar and lap-steel guitar on 2 songs and Nell Forster herself contributed sound-collaging, drums and percussion.
To Absent Friends tracklist:
1. To Absent Friends [3:22]
2. Leopardi [5:11]
3. Lonely Village [3:57]
4. Bicycles [6:04]
5. Digital [2:30]
6. El Rey y La Reina de Los Descastados [8:11]
7. La Maga Fina [2:47]
8. Grassy Patch [5:40]
9. To Dear Friends [2:55]