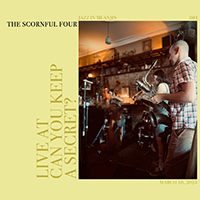 This recording results from the last-minute thought that such a moment should be captured. This set by newly formed The Scornful Four shows the very instant when an idea became a creation.
With a book full of COVID-era compositions that had yet to fall on any ears, saxophonist Andrew Garton convened a group of musical friends new and old to tackle the task of creating a setting to enrich what previously only existed in his imagination.
Meanjin jazz-royalty Helen Russell on bass (notably of the lauded 90s ensemble Good Bait), the wise-beyond-his-years journeyman drummer Aaron Jansz and young firebrand trumpeter Sharon Nobs all openly brought their dedication and ability to engage deeply with any music they perform and it shows in the freedom and nuance presented in this live recording.

MEMBERS
ANDREW GARTON – BARITONE SAXOPHONE
SHARON NOBS – TRUMPET
HELEN RUSSELL – BASS
AARON JANSZ – DRUMS