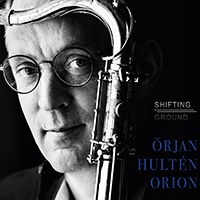 Örjan Hultén Orion(Sweden) – Shifting Ground (Prophone Records)
Örjan Hultén Orion's latest album is a collection of eight skillfully crafted tracks that showcase the musical and compositional talents of each band member. Despite the fact that the material has several "parents", the album maintains a consistent stylistic cohesion that reflects an unifying artistic vision where melodicity embraces improvisation in such a fresh way .
Each track bears the personal touch of the musicians, making the album particularly noteworthy. The title track, composed by Filip Augustson, features an engaging interplay between Hultén's saxophone and Torbjorn Gulz's piano, with the melodic dialogue exploring contrasts and harmonies. "Mystique No. 12," a ballad by drummer Peter Danemo, sees the saxophone moving gracefully over percussion and spacious piano accompaniment. Augustson's composing skills are also on display in "Bellatrix," which begins with a textural intro featuring drums, piano, and bass, before giving way to Hultén's melancholic soprano theme, which is supported by the piano in the second part before transitioning to the next saxophone section.
The album's only composition by the bandleader, "Las Tres Marias," is a joyous, tango-inspired track that evokes Nino Rota and his work for Fellini films. "Philomelos" is a unique ballad in which Hultén's captivating saxophone weaves a narrative through the piano melody, complemented by Augustson's seamless bowing. Danemo's "Even in the odds" follows in a playful vein, providing a lively backdrop for the drums, bass, piano, and saxophone to perform with exceptional passion and delicacy. "Rigel" opens with Augustson's bass line and features the piano setting the stage for the saxophone's melodic entrance, resulting in a virtuosic piece with entertaining blues accents.
The album concludes with "Nosebleed," a track rich in rhythmic complexity that allows Hultén to fully show his musicianship.
"Shifting Ground" offers new discoveries with each listen and is well worth multiple plays; it is a deserving reward for the listener.
Musicians: Örjan Hultén – saxophones, Torbjorn Gulz – piano, Filip Augustson – bass, Peter Danemo– drums