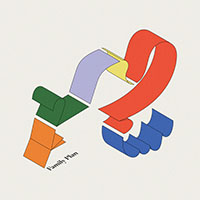 Futuristic Collective "Family Plan" Revamps Piano Trio Concept Family Plan

Out September 24, 2021 on Endectomorph Music, Family Plan recasts the classic jazz piano trio with intricate counterpoint, 21st century beats, and electronic production.
CD Release Concert: Thursday, September 30, 2021

CD Release Concert:
Thursday, September 30, 2021
6:30 – 9 PM, free admission / open to public
Green Oasis Garden
376 E 8th St, New York, NY 10009
"We needed a phone plan," recalls bassist Simón Willson of Family Plan, and thus a band was born.
"Oh, right—well, so then that was it," says pianist Andrew Boudreau. "T-Mobile was offering good deals on family plans."
"I would always see cell phone ads on the subway," adds drummer Vicente Hansen, "so I might have brought it up, and then it became the three of us on the plan."
Family Plan began as a workshop for three like-minded improvising composers, who began playing in 2018 with a bent toward insouciant experimentation and formal rigor. The band is a direct descendant of jazz-informed collectives like The Bad Plus and The Necks, and the program on their first album showcases their undeniable chemistry.
Having come of age in a digital era, Family Plan also felt strongly that they should avail themselves of post-production techniques embraced in most contemporary musical genres, which show up in the form of overdubs, electronic distortion, and sonic refinements.
"I'm just personally kind of tired of listening to jazz records that sound like a band in a room," says Hansen, who, in addition to drumming, also mixed the album. "I used the opportunity to try to enhance some of the artistic and musical qualities for each piece."
Each member of Family Plan has their own well-defined angle on making compelling, fresh-sounding music in a time of musical excess, with aesthetic positions drawn clearly in the sand. Of the three, Willson gets the most calls to play straight-ahead and modern jazz around New York, and his songs both reflect and comment on his position in the scene.
"As a bass player that plays a lot of bands, sometimes it feels like there's an over-complication," says Willson, "so I was trying to write a pretty skeletal kind of music so that we play more expressively."
Willson's stripped-down approach is featured on songs like "Who's Your Copilot," a catchy but off-kilter melodic hook with toy piano on the out chorus, and "Seemingly OK," which begins with an umbrous chorale before morphing into its explosive, rock-influenced conclusion. Other songs bridge the jazz tradition like "Scam Likely," a riddle on the Thelonious Monk-Herbie Nichols axis that alludes to T-Mobile's Scam ID service and the band's moniker, as well as "What's Your Fee," a self-consciously modern jazz tune replete with a guest spot by saxophonist Kevin Sun.
Willson's laconic songs stand in contrast to the more expansive pieces of Hansen, a DMA candidate at Columbia University whose work has been performed by new music ensembles like Wet Ink, Yarn/Wire, Jack Quartet, and the International Contemporary Ensemble.
"I was trying to write something like advanced children's music, like 'children's music for adults' kind of thing," says Hansen, who realizes his musical vision by mixing the elemental with the complex: convoluted counterpoint and contrapuntal forms combined with basic musical building blocks like triads.
Pieces like "Celebratory" and "Reptilian" show the band at its hardest-hitting and most virtuosic, dancing to relentlessly knotty rhythms without giving an inch in terms of ferocity and risk-taking. Hansen also brings the band to other extremes with "Touch," an ethereal loop that draws on the power of repetition much like Wayne Shorter's famous "Nerfertiti" with the Miles Davis Quintet.
The band's pianist and lone Canadian, Andrew Boudreau, embraces his role as the intermediary between Willson and Hansen, opting for the cordial middle ground.
"I'm aiming for balance between complexity slash seriousness and humor slash rambunctiousness," says Boudreau. "Even though they're from different places, the songs [on the album] all face the same thing, like guests talking at a dinner party."
Combining tunefulness with pianistic verve, Boudreau's "Groundhog Day" is a light-hearted romp that pays homage to Shubenacadie Sam, the resident predictive groundhog of the pianist's native Nova Scotia. A darker palette comes to the fore on "Little River," a dodecaphonic composition disguised as a waltz, and "Life is Good" satirizes the platitudes of small talk with a haunting and unforgettable melody.
Everyone in the band gets their moments to shine throughout the album, but Family Plan is arguably at its finest in its extended episodes of just playing music as a band. Willson's "El Mono" is a fitting closer to the album, a through-composed slow-build with no solos, just unadulterated ensemble magic.
"For me this band was never about making the next great jazz piano trio in the tradition, you know," says Willson. "It was more about crafting our musical identity, whatever that might be or become."
* * * * *
Family Plan
Immaculately conceived in 2018 in Brooklyn, Family Plan is an aesthetically diverse three-person extraction. The collective trio consists of the Canadian pianist Andrew Boudreau and two Chileans, Vicente Hansen and Simón Willson, on drums and bass, respectively. Family Plan has performed at venues such as Scholes Street Studio (NYC), Dièse Onze (Montreal), and the LilyPad (Cambridge), among others. Descendants in equal parts to sensibilities related to the high- and low-brows of music, Family Plan will release their debut album on Endectomorph Music in September 2021.