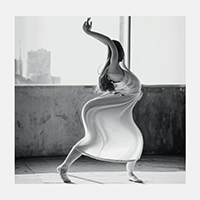 Al-jiçç (Portugal)-Zadar
Composer: Al-jiçç
Album: Chants (2021)
Label: Al-jiçç
'Chants' is Al-jiçç's fifth album and represents an aesthetic evolution of the band. It was composed and produced during the pandemic, with the musicians individually recording their parts.
The music started with six little themes composed on a electric piano, which served as a harmonic basis for the improvisations. These improvisations were edited and manipulated, with the mixing and post-production playing a fundamental role in the construction of the record.
Keeping the Mediterranean-inspired melodies as a brand, in 'Chants' these were fused in a universe influenced by Miles Davis' electric phase (in 'Route'), by Dub (in 'Zadar') or the more ambient electronics ( in 'Lost Sign').
This record represents a new direction for Al-Jiçç, using the melodic side as a starting point for more electronic and contemporary universes.