Made in Wood
"Simplicity"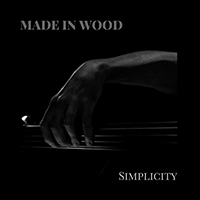 Made in Wood tell unique instrumental tales through their simple and elegant music expression, creating time and space for immersion and for the listeners to join the meditative and dreamy universe. You are invited into an intimate and present musical space, where simple means of action create intense atmospheres.
Made in Wood's musical expression has roots in the Nordic tone with an unmistakable Scandinavian, folk melodic melancholy, and at the same time there is a blend of jazzy minimalism performed at a high technical level by Jonas Berg (Sweden) on piano and Bastian Sjelberg (Denmark) on double bass; both having extensive and broad genre experience, being firmly established on the Danish music scene, playing with major singer/songwriters, pop and jazz artists.
"Simplicity" is the 2nd full album from this duo, consisting of solely original compositions, apart from one cover – the interpretation of a Danish radio hit "I Morgen Er Der Endnu En Dag" (by Andreas Odbjerg), giving it the Made in Wood sound. There are also a handful of featured artists on the album, such as Mathias Heise (harmonica), Peter Fuglsang (bass clarinet and flute), Andreas Bernitt (strings) og Gustaf Ljunggren (pedal steel).
Their first album "Ease" from 2020 entered at #1 on Apple Music's Jazz chart, and during the last couple of years, their singles have been on rotation on Danish national radio P8 Jazz.
01 – Wednesday Vibes
02 – Careful Thoughts
03 – By The Sea (feat. Mathias Heise)
04 – Bjergstien (feat. Peter Fuglsang)
05 – Skoglåt
06 – The Play
07 – I Morgen Er Der Også En Dag (feat. Gustaf Ljunggren)
08 – Freedom (feat. Andreas Bernitt)
09 – Caring
10 – Vaggvisa
www.facebook.com/madeinwoodmusic

www.instagram.com/madeinwoodmusic
2022 © Made in Wood / Zack's MUSIC