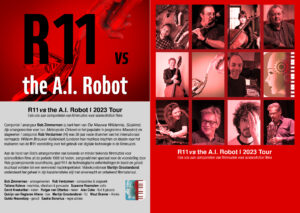 SCHEDULE
1-13-2023 Middleburg 20:00 De Spot
1-14-2023 Nijmegan 20:30 Lux Cultuur and Media
1-15-2023 Den Haag 20:15 The Grey Space
1-20-2023 Roermond 20:00 ECI Cultuurfabriek
1-22-2023 Castricum 20:00 Theatre Koningsduyn
1-27-2023 Bodegraven 20:30 Evertshuis
1-29-2023 Amsterdam 15:00 Bimhuis
Composer / arranger Bob Zimmerman (you know him from De Nieuwe Wildernis, Süskind, his arrangements for the Metropole Orkest and the popular TV program Maestro) and percussionist / composer Rob Verdurmen (drummer of the internationally renowned Willem Breuker Kollektief for 38 years) join their musical forces and ideas to realize the R11 performance about the use of digital technology in film music.
Based on Bob's arrangements of well-known and lesser-known film music for science fiction films from the period 1968 to the present, supplemented with soundtracks specially composed by Rob for the performance, R11 will musically translate technological developments in image and sound into a dazzling musical spectacle. Video artist Martijn Grootendorst supports the whole in his characteristic style with unexpected and unknown film material.
Bob Zimmerman – arrangements | Rob Verdurmen – compositions & percussion|
Tatiana Koleva – marimba, vibraphone & percussion |
Susanne Rosmolen – cello |
David Kweksilber – reeds Rutger van Otterloo – reeds | Alex Coke – flute & piccolo | Quirijn van Regteren Altena – bass |
Martijn Grootendorst – VJ | Wout Bremer – Aimée|
Guido Nieuwdorp – sound | Saskia Bonarius – directing advice
Promo video: