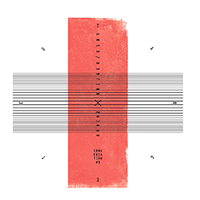 "Conversation #9 – Targeted" is the latest release of the series of collaborations with like-minded felow musicians initiated by Swiss drummer Florian Arbenz. While the presence of the renowned American saxophonist Greg Osby is not new on these series, Dutch Hammond impressive organist Arno Krijger came on board for the first time, and it must be acknowledged that he succeeds greatly in making his mark.
We hear six pieces nicely integrated into the tapestry of the album, three of them are originals. The three musicians came together to form a solid band that transmits energy and enables their abilities to soar with crystal-clear clarity.
The opener, Eddie Harris's Freedom Jazz Dance is once more revisited (it was already included on Arbenz'previous Comversations albums) receiving a powerful treatment, breathtaking saxophone and muscular organ solos powered by Arbenz's solid, imaginative drumming. Sleeping Mountain, composed by Arbenz, takes listeners on a cosmic musical ride with the saxophone weaving intricate lines that glide through the atmosphere, while the organ provides a rich and textured backdrop sustained by Arbenz's sensitive drumming, building energy just when it's needed.
Vertical Hold brings forward Greg Osby as a composer while improvising in full swing backed by Arbenz's galvanic beats. Seven Steps To Heaven by Victor Feldman, takes off with an energetic drum solo into which Arno Krijger's organ gradually slips, the fiery duet that follows has jazz-rock qualities. I Loves You Porgy receives a new sonic aesthetic due to Osby's fluid lyricism to which the organ adds an enigmatic edge. Old Shaman ending the album a hyper thunderous three way improvisation played with the greatest finesse and beauty.
An album that will delight any listener willing to hear three virtuosos unleashing their imagination and skills.