David Linx, Guillaume de Chassy, Matteo Pastorino

Nouvel album On Shoulders We Stand
Disponible chez Enja/Yellowbird Records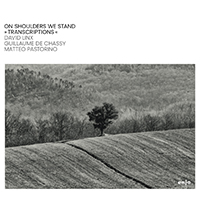 David Linx, Guillaume de Chassy and Matteo Pastorino ont sorti en trio l'album On Shoulders We Stand chez Enja/Yellowbird Records.

Sur cet album, le pianiste Guillaume de Chassy, le chanteur David Linx et le clarinettiste Matteo Pastorino s'inspirent d'oeuvres de Bach, Chopin, Rachmaninov, et Ravel. David Linx leur a écrit des paroles, Guillaume de Chassy s'est occupé des adaptations, pour cette osmose entre jazz et musique classique.

Après Drown Out The Noise, un titre adapté de Sergueï Rachmaninov, David Linx, Guillaume de Chassy et Matteo Pastorino nous offrent Souls Astray, un titre inspiré par la Sonate pour piano D.537 de Schubert.
"Souls Astray est une composition de Franz Schubert qui a déclenché tout notre projet d'album. Quand nous avons entendu la transcription de Guillaume de Chassy, nous avons tout de suite senti que les parties instrumentales pourraient devenir un nouveau répertoire pour le chant, autant jazz et classique. Ce projet a été une libération artistique puisqu'il fallait construire depuis un nouvel endroit et les mélodies me dictaient les textes en quelques sorte. Souls Astray est une ode à la compassion et la beauté de la patience en amour et amitié" a expliqué David Linx.

David Linx : site officiel Facebook Instagram
Guillaume de Chassy : site officiel Facebook et Instagram
Matteo Pasterino : site officiel Facebook et Instagram


David Linx au chant, Guillaume de Chassy au piano et Matteo Pastorino aux clarinettes nous offrent l'album On Shoulders We Stand, un disque en trio, inspiré des musiques de Bach, Ravel, Scriabine, Schubert, Chopin, Mompou, Rachmaninov et Chostakovitch.
Les textes sont signés David Linx et les transcriptions assurées par Guillaume de Chassy."Nous n'inventons rien totalement ; nous nous tenons sur les épaules des grands créateurs qui nous ont précédés ou de ceux que nous côtoyons aujourd'hui : musiciens, peintres, écrivains … ces géants nous soutiennent et nous inspirent chaque jour."
C'est ainsi que David Linx et Guillaume de Chassy, initiateurs de ce projet, définissent leur démarche commune. Avec On Shoulders We Stand, les trois musiciens se sont lancés un défi de taille, assumant joyeusement une prise de risque devenue rare dans le conformisme ambiant.
David Linx on vocals, Guillaume de Chassy on piano and Matteo Pastorino on clarinets released the album On Shoulders We Stand, a trio album inspired by the music of Bach, Ravel, Scriabin, Schubert, Chopin, Mompou, Rachmaninov and Shostakovich.
The texts are written by David Linx and the transcriptions by Guillaume de Chassy.
"We don't invent anything totally; we stand on the shoulders of the great creators who have preceded us or those we rub shoulders with today: musicians, painters, writers … these giants support us and inspire us every day."
This is how David Linx and Guillaume de Chassy, initiators of this project, define their common approach. With On Shoulders We Stand, the three musicians have taken on a major challenge, joyfully assuming a risk-taking that has become rare in the current conformism.