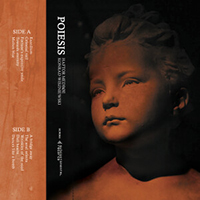 Poiesis is a mesmerizing improvisational musical journey that takes the listener on an ambient and ethereal adventure created by Haftor Medbøe on guitar/effects and Konrad Wiszniewski on saxophones. The album is collection of ten dialogues permeated by an unearthly sense of infinity and borderless astral energy.
What came out from the synergy between the two musicians is a balanced sonic experience in which each instrument finds its right place in time while leaving no room for overstated interventions. The result is not just organic in its essence but adventurous reaching the unexpected.
From mellow to majestic, going through meandrous melodic lines that reach the lyrical realm, the fusion between acoustic and electronics offers a singular and enthralling experience. It is also about the solidarity of human souls facing the mystery of the universe using the music as vehicle for meaningful expression.
As Ralph Waldo Emerson put it: "All life is an experiment", a vision that both musicians embraced throughout their spiritual encounter fueled by individual creative freedom.