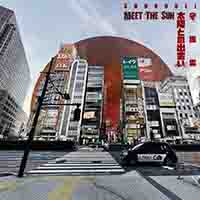 Shugorei(Australia)-Meet The Sun (feat. Shêm Allen)
4000 Records (2023)
Meet The Sun' features local vocalist Shêm Allen, who has performed with Nonsemble, Skinny Jean and Yr Familiar. Their distinct, unguarded and unaffected tone is reminiscent of Jeff Buckley, and on this track he lends Shugorei an entrancing, expressive depth.
After playing a show together in early December, Shêm and Shugorei mutually approached each other to collaborate and within a fortnight they were in the studio recording this track.
'Meet The Sun' celebrates the risks artists take to pursue their dreams. Like many Shugorei songs, the message is delivered bilingually (here, in English and Japanese). It is also embellished by a lush string arrangement, performed by members of Black Square Quartet.