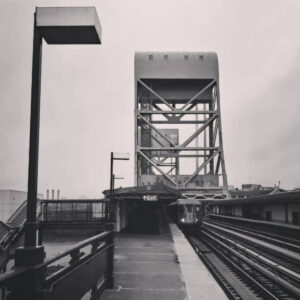 Andrew Dow is a multidisciplinary artist living in New York City. Bass player, composer, photographer and videographer, Andrew has long been developing his personal sound and vision on the electric bass guitar. Inspired by jazz musicians, classical composers, rock music and songwriters alike, he has been following a singular vision, one that he hopes is felt throughout his first recording as a leader, In Motian.
From our very first breath to our last, we're faced each and every day with navigating an ever changing world. In Motian is an attempt to acknowledge those every day changes; changes that we sometimes accept with grace, and sometimes we meet kicking and screaming. Andrew has composed a beautiful album of personal reflections on time; both lived and lost, personal and collective. A musically poetic weaving of memories, of hopes and dreams, of our shared human experiences.
Time is at the heart of the album; time and motion. In Motian is a play on words, giving a nod to the great drummer/composer Paul Motian, whose own sense of time, and artistic vision, has long been an inspiration of mine. However, In Motian is my own story, the story of my life. It's the people that I've met, and the music that I've lived, learned and played. Singing classical music through college, my time playing with great songwriters, and later, all of my experience playing jazz and avant-garde music, both around Boston and then in New York City. Simply put, this is the debut presentation of my artistic DNA.
Andrew Dow – electric bass guitar, compositions, poetry, spoken word
Michaël Attias – alto sax
Matt Hull – trumpet
Sumner Thompson – voice
Santiago Leibson – piano
Max Goldman – drums