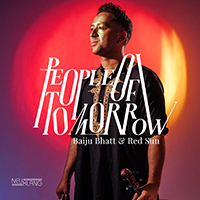 Baiju Bhatt & Red Sun(India/Switzerland)-Ananda
Album: People of Tomorrow
Label: Neuklang

Baiju Bhatt & Red Sun
Nouvel album People of Tomorrow
Sortie le 28/10/2022 chez Neuklang
En concert à Paris au Pan Piper le 28/11/2022
Baiju Bhatt retrouve son groupe Red Sun pour un troisième album, People of Tomorrow, prévu le 28/10/2022 sur le label Neuklang, qui brouille encore davantage les frontières musicales.
Quatre ans après la sortie du singulier Eastern Sonata, qui mélangeait avec beaucoup de malice et de talent les influences d'une Inde fantasmée et du jazz-rock occidental, le violoniste et compositeur indo suisse Baiju Bhatt récidive et enfonce le clou en nous proposant un album encore plus ambitieux et puissant, doté d'une profonde richesse musicale, harmonieuse et subtile.
Un pied en orient, et un pied en occident, le violoniste Baiju Bhatt réalise avec People of Tomorrow un métissage audacieux entre jazz-rock et musique indienne, entre tradition et modernité.
Entouré par le quintet transalpin Red Sun et par le guitariste Nguyên Lê en invité, Baiju Bhatt & Red Sun forment un groupe alchimique où les différentes sonorités de chacun se fondent dans une parfaite harmonie. A eux cinq, ils effacent les frontières et mixent les cultures dans un grand feu d'artifice multicolore, virtuose et harmonieux. Un jeu fougueux au placement rythmique exemplaire, qui sait aussi devenir romantique et aérien.
Ancien élève de Jean Luc Ponty et Didier Lockwood, le violoniste Baiju Bhatt défend avec son groupe Red Sun un projet musical ambitieux plaçant au centre de sa recherche la quête d'identité et la volonté de faire chanter ensemble des mondes musicaux différents, en particulier le jazz et la musique indienne.
Avec People Of Tomorrow, nous voyageons à travers le monde et différents styles musicaux, et nous en ressentons toutes les saveurs, les odeurs et les épices, si bien que la notion de «musique du monde» prend ici sa pleine signification en effaçant toutes les frontières dans un grand feu d'artifice, chatoyant et multicolore.
Baiju Bhatt approfondit son langage musical et il nous épate encore davantage avec ses thèmes prégnants joués à l'unisson (saxophone-violon avec la complicité de Valentin Conus, ou piano-violon avec Mark Priore) et avec sa musique contrastée, faite de breaks et de ruptures rythmiques, qui multiplie les climats et les atmosphères. Une musique riche et complexe, formidablement bien construite et structurée, qui a l'intelligence d'être toujours accessible et fluide.
L'énergie musicale déployée est à la hauteur du lyrisme des différents solistes, parfois teinté de romantisme, à l'image du jeu de violon de Baiju, qui sait comme personne manier virtuosité et élégance et assembler, avec brio, musique classique, traditions du monde, musique indienne, et jazz-rock !
Baiju Bhatt & Red Sun :
Baiju Bhatt – violon, composition, arrangements
Valentin Conus – saxophone ténor, saxophone soprano
Mark Priore – piano
Blaise Hommage – basse électrique
Paul Berne – batterie
invité spécial : Nguyên Lê – guitare électrique
Baiju Bhatt is back with his group Red Sun for a third album, People of Tomorrow, scheduled for 10/28/2022 on the Neuklang label, which crosses musical borders even further.
Four years after the release of the singular Eastern Sonata, which mixed with great playfulness and talent the influences of a fantasized India and Western jazz-rock, the Indo Swiss violinist and composer Baiju Bhatt does it again and insists by offering us an album yet more ambitious and powerful, endowed with a deep musical richness, harmonious and subtle.
One foot in the East and one foot in the West, the violinist Baiju Bhatt achieves with People of Tomorrow a daring mix between jazz-rock and Indian music, between tradition and modernity.
Surrounded by the transalpine quintet Red Sun and by guest guitarist Nguyên Lê, Baiju Bhatt & Red Sun form an alchemical group where the different sounds of each blend in perfect harmony. The five of them erase borders and mix cultures in a great multicolored, virtuoso and harmonious fireworks display. A fiery game with exemplary rhythmic placement, which becomes romantic and ethereal.