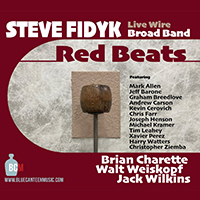 The Steve Fidyk Live Wire Broad Band (USA)- Album: Red Beats
Integrating rhythmic power with musical taste, drummer Steve Fidyk returns to his big band roots, distinctly showcasing his dominant performance skills on this unique collection of original music.
His fourth date as a leader features an all-star band of musicians who hail from the ranks of The Buddy Rich Big Band, The Count Basie Orchestra, The Jazz Orchestra of Philadelphia, Maynard Ferguson's Big Bop Nouveau, The Army Blues, The Navy Commodores, and The Airmen of Note.
Featured soloists include some of New York's finest — guitar legend Jack Wilkins, tenor saxophone titan Walt Weiskopf and contemporary organist Brian Charette. Each soloist is an engaged participant that pushes Fidyk's polyrhythmic message direct to the battleground.
Release Date:
February 20, 2023