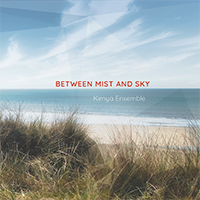 Kimya Ensemble(France)-Maramaros
Album: Between Mist and Sky
Label: Urborigène Records(2022)


1er album Between Mist and Sky
Sortie le 21/10/2022 chez Urborigène Records
En concert le 09 novembre 2022 au Studio de l'Ermitage
L'Ensemble Kimya nous offre le 21/10/2022 son premier album, Between Mist and Sky, sur lequel les cordes et les percussions mêlent leurs sonorités entre jazz, world et classique, entre Orient et Occident, jusque des univers inexploreìs.
L'Ensemble Kimya (alchimie en arabe) rassemble quatre musiciens d'horizons divers, et file la métaphore de l'alchimiste à travers une musique faite de sonorités transfigurées. Composé d'Amir Amiri (Santour), Olivier Marin (Alto & Viole d'amour) rejoints par Roméo Monteiro (Percussions indiennes) et Andrew Briggs (Violoncelle), le Kimya Ensemble tisse des ponts entre les cultures anciennes et le temps présent. Leur dialogue musical mêle musique classique persane, indienne et occidentale dans l'esprit des musiciens aventuriers comme Jordi Savall, Garth Knox ou Vincent Ségal.
Premier extrait, voici le titre Maramaros (inspiré de Béla Bartok) à découvrir en vidéo, avant de retrouver le quatuor en concert le 5/11/2022 au Vollore Festival et le 09/11/2022 au Studio de L'Ermitage à Paris.

L'Ensemble Kimya (alchimie en arabe) réalise son premier album Between Mist and Sky alliant musique classique et contemporaine d'Europe, du Moyen-Orient et d'Inde, fruit d'une rencontre entre santour, alto, violoncelle et percussions.
Porté par Olivier Marin (alto, viole d'amour), Amir Amiri (santour), Andrew Briggs (violoncelle) et Roméo Monteiro (percussions indiennes et orientales), l'Ensemble Kimya étend ses recherches au monde des quarts de tons propre à la musique orientale, mais aussi aux cycles rythmiques issus de la musique indienne. Les quatre musiciens puisent également leur inspiration dans le répertoire occidental proposant des arrangements originaux des Folies d'Espagne de Marin Marais / Garth Knox en passant par des duos de Béla Bartók ou des pièces de Monteverdi.
L'ensemble s'est produit ces dernières années, aussi bien dans des festivals de musique classique comme les "Concerts de Vollore", que dans des festivals de musiques « nomades » comme les "Détours de Babel" ou les "Traversées de Tatihou".
Le premier album de l'Ensemble Kimya offre une musique exceptionnelle, riche en couleurs où les cultures se rencontrent, s'enrichissent et se transforment mutuellement.
En concert :
5 novembre : Vollore Festival, Vollore
09 novembre : Studio de L'Ermitage, Paris
On 10/21/2022, the Kimya Ensemble releases Between Mist and Sky, its debut album, on which the strings and percussions blend their sounds with jazz, world, and classical music, with East and West, and even with uncharted cosmologies.
The Kimya Ensemble (alchemy in Arabic) brings together four musicians from diverse backgrounds who spin the alchemist metaphor through music constructed of altered sounds. The Kimya Ensemble, which consists of Amir Amiri (Santour), Olivier Marin (Viola and Viole d'amour), Roméo Monteiro (Indian percussions), and Andrew Briggs (Cello), builds links between ancient and modern cultures. In the style of adventurous musicians like Jordi Savall, Garth Knox, or Vincent Ségal, their musical discourse combines Persian, Indian, and Western classical music.
The debut album by Ensemble Kimya features outstanding music with vibrant colours where civilizations converge, exchange ideas, and transform one another.