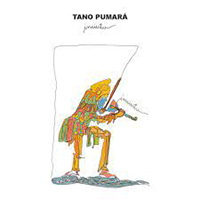 Tano Pumará(Argentina)- Incierto
The project to record the album arose during the pandemic with the idea of making a synthesis of a musical journey of many years.
The violin is the protagonist because it is the instrument that has accompanied me since I was 5 years old and, almost without intending to, the musical genres that were most present in my life began to appear: jazz, Argentine folk music, tango, Argentine rock. The result is difficult to classify within a musical genre, but these influences can be recognized.
Incierto, the title track, is a Tano Pumara original. The tune embodies Nuevo Tango (New Tango).
Tano Pumará: Violin, production, arrengements, composition.
Matías Martino: piano
Fefe Botti: Up right bass
Mono Valle: Drums
Recorded in "Estudio Bulo" by Nacho de la Riega. December 2021
Covers ilustrations: Teresita Pumará
Covers design: Marcos Novick