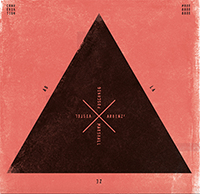 Swiss composer and drummer Florian Arbenz's Conversations series continues with "Ablaze", a new album where is joined by British tuba musician Oren Marshall, Austrian saxophonist Wolfgang Puschnig, Swiss pianist Michael Arbenz and Cuban trumpet player Jorge Vistel.
As always his drumming spans a wide spectrum of tonalities and rhythms, ranging from organic, free-flowing beats to strong strokes, which offers this all-star multinational gathering of talents support and vitality.
Right from the start British tuba player Oren Marshall showcases his prowess giving strength and heart to the interaction. On the opening track, "Catch Me If You Can," the tuba's rich, resonant tones support Florian Arbenz's inventive drumming and the vivacious free discussion between the trumpet and saxophone.

"Rivulets" starts off gently with the tuba soloing an amazing "throat singing"-like intro, followed by saxophone, and trumpet playing in unison, building further into a jazzy blues crescendo with all players dancing gleefully, before making room for exuberant saxophone and trumpet solos.
The lyrical highlight of the set is "Choral," a gorgeous impressionistic work in which the melodic piano unfolds with all its splendour.

In full force "The Mirror" follows, the entertaining melodic line sustained by tuba introducing thrilling saxophone and trumpet solos. Freedom Dance present on Arbenz's previous albums, gets new clothes reaching a big band quality full of surprises with Puschnig playing hojok (a Korean wind instrument). On "Wild flower," a minimalist velvety ballad with moments of brilliance from Vistel's trumpet, the pianist Michael Arbenz shines once more.

The free-form "Insight Straight" rounds up the seven-piece performance with a creative tour de force in which all the instruments combine their creative forces to produce an amalgam of unexpected sonorities.
Strongly advised for jazz lovers open to a "burning" artistic adventure.