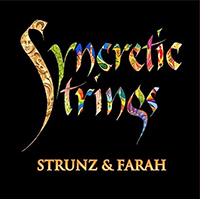 Syncretic Strings
AVAILABLE MARCH 2023
Grammy-nominated acoustic guitar greats Strunz & Farah are releasing their 21st album, Syncretic Strings, in March 2023. Their blend of Latin, Middle Eastern, jazz fusion, and acoustic rock elements has been highly influential among guitarists worldwide.
Recognized for their astounding technical brilliance, melodic eloquence, and colorful and sophisticated compositions, Strunz & Farah have created a new collection of ten studio tracks full of energy and beauty. One cut, "This Could Only Be", features surprise special guest Al Di Meola on percussion.
As the title suggests, the music offers an exuberant diversity, blending many elements into their unique guitar vision, transcending categories, and further expanding the possibilities of contemporary guitar. A new refreshing feast of color, melody, and driving rhythm from these guitar masters, among their very best yet.
"Jorge Strunz and Ardeshir Farah play with the swiftness of a desert wind and the burning passion of a Gypsy campfire…In addition to being talented arrangers and composers, their technical mastery of the instrument – especially in terms of speed – tests the boundaries of the human capability." – Guitar Player
Website CD Store Apple Facebook Instagram Spotify TikTok YouTube