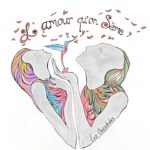 Les Chacrobates(France)-Raw Love
Composer: Jérémy Tridera
Album: L'amour qu'on sème (2022)
Les Chacrobates est un groupe jazzy ne reniant pas ses affinités avec la pop et la bossa.
Composé de 6 musiciens et fondé à l'été 2021, ils écument les routes au long de l'année 2022 pour affûter leur répertoire en jouant en de nombreux endroits. Aujourd'hui, ils sortent leur premier EP 6 titres et propose des mélodies entêtantes en une palette éclectique mêlant les influences de chacun.
Les Chacrobates is a jazzy group, their members don't hide their pop and bossa affinities.
Composed of 6 musicians and founded in the summer of 2021, throughout the year 2022 they hit the road to play many different venues and hone their repertoire. Their debut six-track EP, which features appealing tunes in an eclectic palette that combines the inspirations of each performer, was just released.