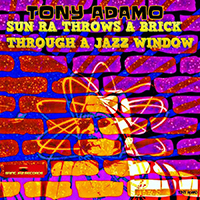 Tony Adamo: Sun Ra Throws A Brick Through A Jazz Window
By Nicholas F. Mondello/Allaboutjazz
May 7, 2023
When one listens to the work of Tony Adamo, there needs to be a self-understanding that Adamo's approach to jazz completely abolishes any pre-conceptions of what "singing," "vocalese," and "storytelling" are. His efforts are a highly-stylized ultra-hip gumbo of these things, usually overlaid over a swinging, driving rhythmic platform. His is music intense and this track is.
"Sun Ra Throws a Brick Through a Jazz Window" is quintessential Adamo. In this track, we get a three-minute homage to jazz revolutionary Sun Ra with Adamo's exciting sing-speak verbiage. The Master of the Arkestra, Sun Ra and various members of his unit tend to be frequently mentioned in Adamo's work. He is an obvious attraction for Adamo and this tune is no exception.
The tempo is a high-grade fever and Adamo blasts his slick lyrics while tenor man Rob Sudduth of Huey Lewis and the News blows freely in the background. It's a story-song format that has deep roots in both African and other cultures. Ra, of course, embraced multi-cultural textures within a mystical, hyped-up panoply of exotic costumes, sounds, textures, and instrumentation. Adamo, as is his stock in trade, takes on the role of hipster "griot" or tale-teller. The pungency, intrigue, and overall urgency of Adamo's and his crew's presentation is beguiling. It is not pretty, but rather, deeply muscular and invigorating.
Like that of the artist of whom he speaks, Adamo's work is an acquired taste. One has to meet it halfway or more to really appreciate it. When that occurs, you realize that he is a highly talented, super-creative artist carrying heavy presence. Ra might have "broken jazz's window with a hurled brick," however, digging Adamo's take on that extreme image is a vivid scene worth experiencing.